Addo Elephant Day Tour
R 1 824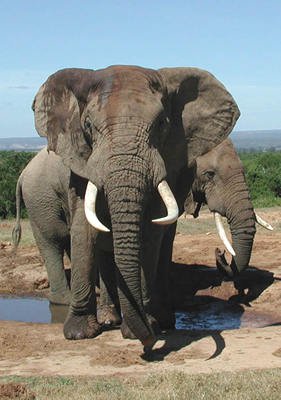 ABOUT US
Shield Tours have been offering tours and transfers since 2000. The Addo Elephant Day Tour is one of our most popular tours. Our popular, very experienced guide, Charles, just about grew up in The Kruger Park and knows his animals, plants and a good few stories!
EXPERIENCE
Now the third largest national park in South Africa, Addo Elephant National Park has expanded to conserve a wide range of biodiversity, landscapes, fauna and flora. Stretching from the semi-arid karoo area in the north around Darlington Dam, over the rugged Zuurberg Mountains, through the Sundays River Valley and south to the coast between Sundays River mouth and Bushman's river mouth, Addo covers about 180 000 hectares (444 700 acres) and includes the Bird and St Croix Island groups.
The original elephant section of the park was proclaimed in 1931, when only eleven elephants remained in the area. Today this finely-tuned ecosystem is sanctuary to over 600 elephant, lion, buffalo, black rhino, spotted hyena, leopard, a variety of antelope and zebra species, as well as the unique Addo flightless dung beetle, found almost exclusively in Addo. The park can exclusively claim to be the only national park in the world to conserve the "Big 7" – the Big 5 as well as the southern right whale and great white shark off the Algoa Bay coast.Plans are currently afoot to include the proposed proclamation of a 120 000 ha (296 500 acre) Marine Protected Area which includes islands that are home to the world's largest breeding populations of Cape gannets and largest breeding population of African penguins.
INCLUDED
The price includes the entrance fee, bottled water and a delicious lunch. If the weather permits, we enjoy a super picnic lunch at a safe picnic spot in the middle of the park.
FEATURES
Addo Elephant Park is considered the 'best for elephant viewing in Africa' and it is possible to get close to these amazing animals. But spotting some meerkat or coming across a herd of buffalo could be equally exciting. Then there is some good bird viewing as well.
LOCATION
You will be picked up from and returned to your accommodation in Port Elizabeth by your guide. You will be collected at 08:30 and dropped off at about 16:00.
AVAILABILITY
The tour is available any day and is offered on a private basis for a minimum of two and maximum of six guests.
PRICE PER PERSON
Adult: R 1 824.00 | Child: R 912.00
BOOKINGS
Please book via e-mail, at least 24 hours prior to date required.
CONTACT
Mobile number : +27 (0)845080361 or +27 (0)845040956 E-mail : igna@shieldtours.co.za Website : www.shieldtours.co.za