Addo Rose Fayre 2019
12 October 2019 - 12 October 2019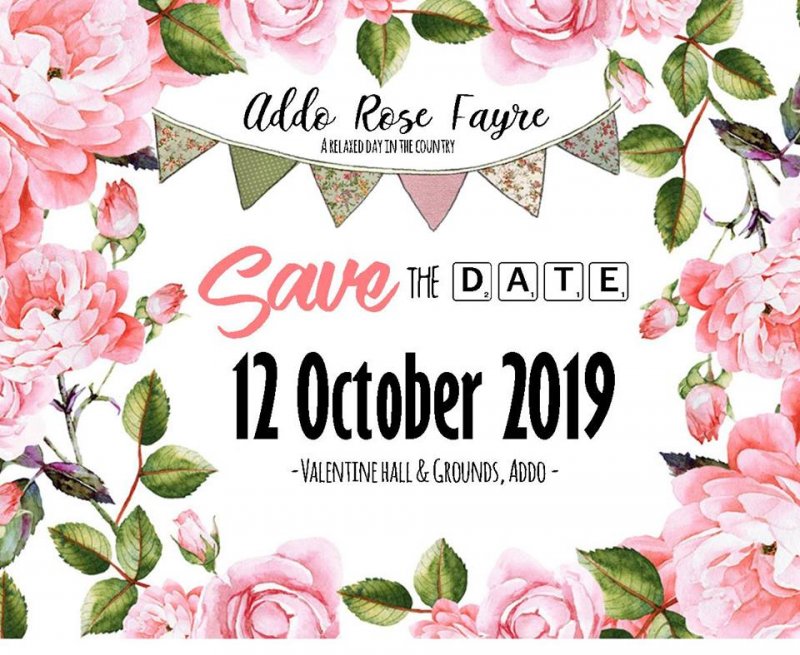 This year's theme for the Addo Rose Fayre is "ROMANCING THE ROSE!"
Gorgeous roses picked exclusively from our Valley gardens will be on display in the Valentine Hall.
The decor, flower and design ladies have already been hard at work, plotting and planning.
We are VERY excited to see what they have in store for us on the 12th October!
A relaxed day in the country with flower decor from local gardens, boutique stalls, entertainment and Addo people.
This is NOT the old Rose Show but a scaled down, local, country event.
Local farming family, the Joubert's, are bringing their delicious Habata Wines to the Addo Rose Fayre this year! Sip some Sauvignon in the sun amongst friends and family.
Bridge Street Brewery will be displaying a thirst quenching bouquet of Craft Beer, Craft Gin and Brandy &coke all on tap at this year's Fayre again!
The Hermitage House Farmers Market will be supplying the Addo Rose Fayre visitors with plenty fresh goods and produce this year.
The Collegaite Junior Concert and Jazz Bands will be entertaining our visitors with beautiful ensembles from 10am.
Opening Times
09h00 till 15h00
Costs
Adult: R50 / Children u/13: Free
Contact Details
Where
Venue:
Valentine Hall, Addo
Event Address:
Valentine Road
Addo, Eastern Cape
MAP
Latitude : -33° 32' 17.37" S | Longitude : 25° 41' 0.43" E