IRONMAN 70.3 World Championships

The 2018 IRONMAN 70.3 World Championship will take place in Port Elizabeth, Nelson Mandela Bay, South Africa on the 1st and 2nd September, 2018.

The IRONMAN 70.3 World Championships will see over 6,000 athletes from around the world (who qualified at another IRONMAN 70.3 event) competing to be crowned the World Ironman Champion. More than 130,000 athletes participate in a season of qualifying races for the championship, a series which consists of over 100 events in locations across the globe.
Nelson Mandela Bay (Port Elizabeth, Uitenhage, Despatch and Colchester), an excellent value-for-money-family-fun-in-the-sun-holiday destination, named after Nelson Mandela - humanitarian, freedom fighter and world icon of peace - is located 763 km east of Cape Town, is regarded as the "official" gateway to the scenic Eastern Cape Province and the world renowned Garden Route and is sometimes referred to (by the people who know her best) as the "friendly city" or the "water sport capital of Africa". Nelson Mandela Bay is also recognised as both the Mohair and Bottelnose Dolphin Capital of the World and is home to the largest breeding colony of the African Penguin.
The only city that boasts the Big 7 (Elephant, Buffalo, Rhino, Lion, Leopard, Humpback Whale and Great White Shark) within it's municipal boundaries, Port Elizabeth (The Friendly City) is known for its over 40Km coast that boast a multitude of Blue Flag Beaches and hours of sunshine to enjoy them in. After a fun day out enjoy the fun and entertainment of the Nelson Mandela Bay nightlife.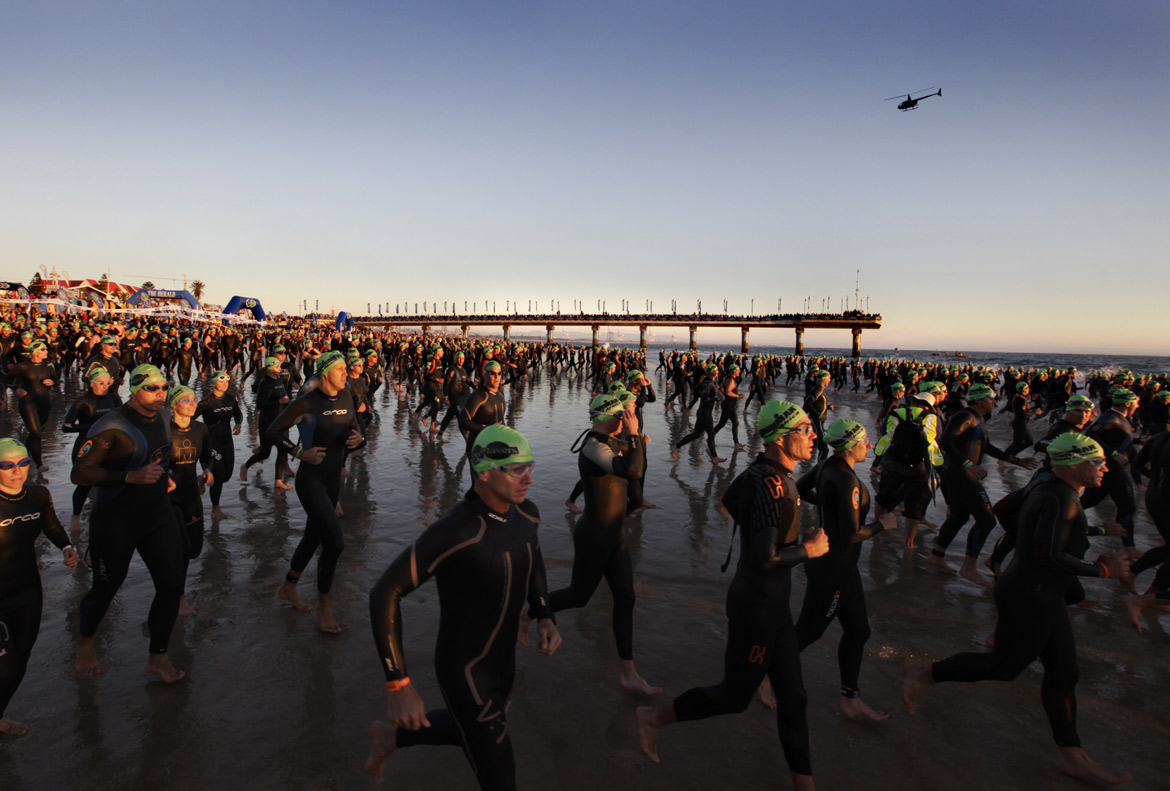 Situated on the shores of the Indian Ocean, overlooking Algoa Bay, this bustling seaport city flaunts an atmosphere of relaxed year-round fun and excitement. Warm, dry Summers and mild Winter temperatures entice water sport lovers to Algoa Bay throughout the year. The breathtaking seashore boasts a perfect combination of warm water, protected beaches and invigorating sea breezes. Here you will find some of the world's best sailing venues, first-rate scuba diving with colourful coral species, beautiful reefs and shipwrecks, near perfect conditions for wind-surfing, angling, snorkelling, kite-surfing, fly-fishing and canoeing.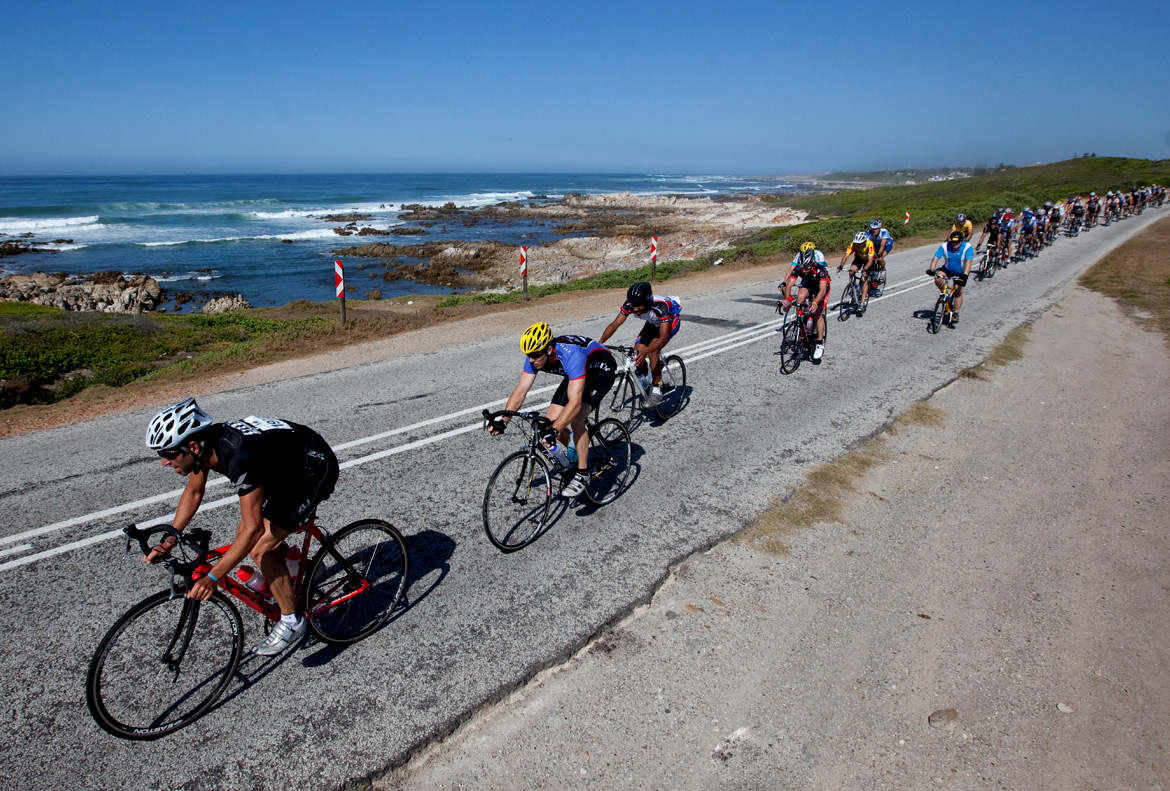 RACE ROUTE AND ROAD CLOSURES
Full Road Closures from 05H00 Saturday 1 September 2018 - Sunday 2 September 2018.
All roads connecting along Walmer Boulevard, Heugh Road & Buffelsfontein Road will be closed with cross over points at 1st Ave, 3rd Ave, 6th Ave, 9th Ave, 10th Ave, Swift Ave, 17th Ave and Melsetter Road. Full Road Closures for all roads connecting into the route from Mount Pleasant to Kini Bay and back to the start/finish point at Hobie Beach. See map above for cross over points and estimated opening times of roads.
ACCESSIBILITY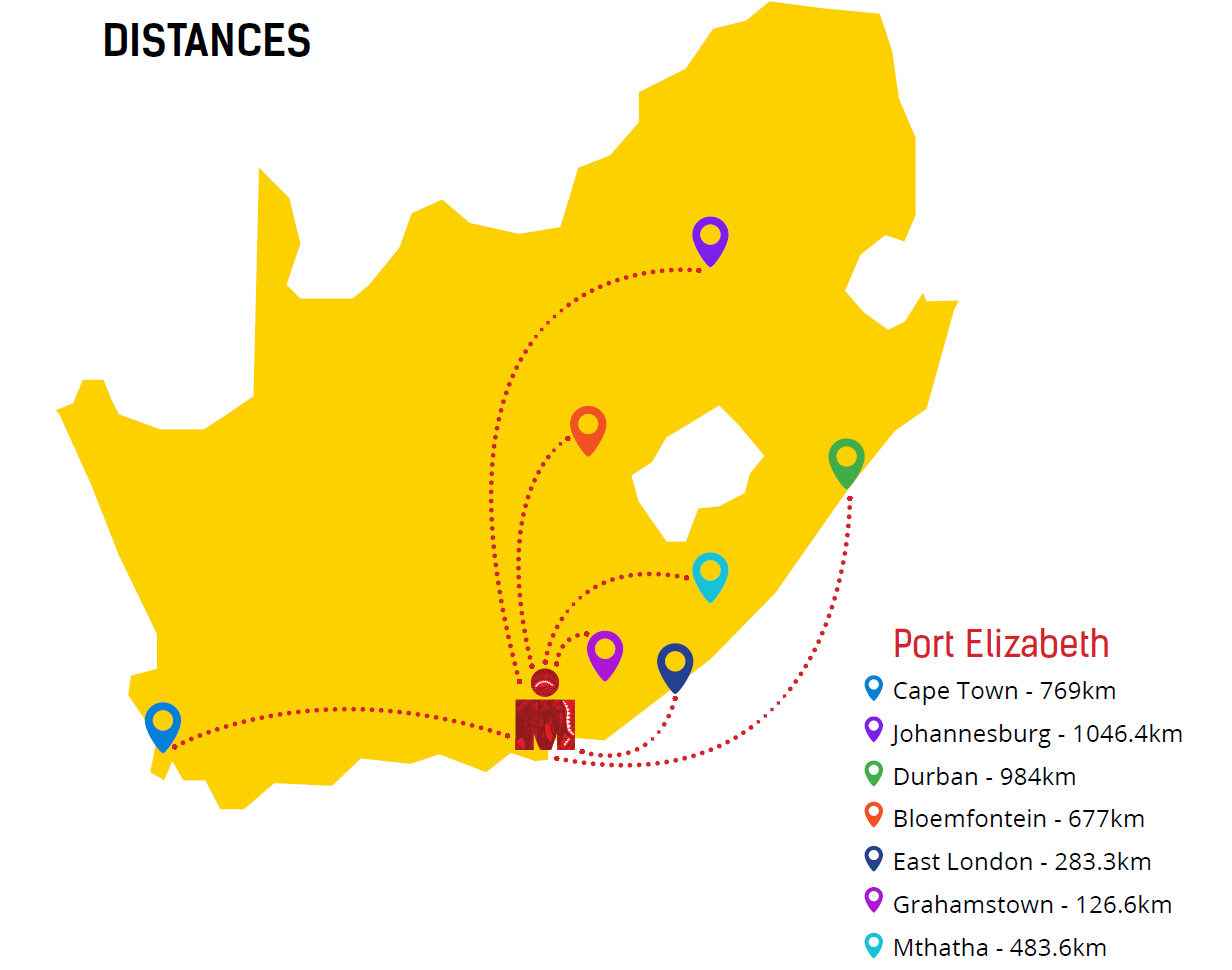 Nelson Mandela Bay's well-equipped airport, two harbours, highways and roads link Southern Africa, and the Eastern Cape in particular, with other major national and international destinations.
The centrally situated Port Elizabeth Airport is easily accessible from all parts of the city. A number of flights are available that connect Nelson Mandela Bay with domestic and international destinations, through the Durban, OR Tambo and Cape Town International Airports every day. The Airport is serviced with regular flights by South African Airways (SAA) as well as certain local and national airlines including SAA - SA Express and British Airways/Comair and Kulula as well as other...
VISAS & EMBASSIES

Visitors' visas are for international travellers (citizens of other countries) who have permanent residence outside South Africa and who wish to visit the country on a temporary basis for tourism or business purposes for a period of 90 days or less.
Requirements for visitor's visas differ from country to country and the requirements are subject to change. Each application is treated as an individual case and you should make enquiries with your nearest South African mission or consulate abroad or any office of the Department of Home Affairs to see whether or not you are required to apply for a visa.
BANKING
Sophisticated banking systems are available in most regions, including ATMs and Bureau de Charges facilities.
Currency: South African Rand. Most international credit cards are accepted, as well as traveler's cheques.
Banks are open Mondays – Fridays: 09h00 – 15h00 and Saturdays: 08h30 – 11h00
Banks:
First National Bank - 293 Cape Road, Newton Park, tel: +27 (0) 41 390 8000 / www.fnb.co.za
ABSA Commercial Bank - Corporate Place, Ring Road, Greenacres, tel: +27 (0) 41 396 5500 / www.absa.co.za
Standard Bank of SA Ltd. - 1 Pickering Street, Newton Park, tel: +27 (0) 41 390 2400 / www.standardbank.co.za
Nedbank – The Bridge Shopping Centre, Ring Road, Greenacres,...
CUISINES & FOOD TYPES

The restaurants, pubs and taverns in and around the city offer a wide range of cuisine, reflecting the diverse cultures and peoples of the area.
Port Elizabeth boasts the highest per capita ratio of restaurants in South Africa, and an excellent selection of restaurants and takeaways from the historical city centre to the outlying suburbs of the Bay offers a wide range of cuisine to satisfy any palate, whether European, Italian, American, Chinese, Indian, Mexican or indigenous African.
MEDICAL INFORMATION
The Eastern Cape is one of the prime malaria free safari areas of South Africa. The Addo Elephant Park with its large and relaxed herds of magnificent African elephants is joined by several international prize-winning private game reserve. All offer Big Five safaris, orientated towards families.
There are numerous excellent private hospitals and clinics throughout the city and region, including 3 state hospitals, 4 provincial hospitals, 4 private hospitals, 3 day hospitals, and 52 Eastern Cape Department of Health clinics.
Ebola Free Country
There has been no recorded case of the current Ebola outbreak in South Africa. The next thing you need to now is that geographically,...
ACCOMMODATION

Nelson Mandela Bay (Port Elizabeth, Uitenhage, Despatch & Colchester) offers a wide variety of accommodation to suit every budget and taste. Whether you are a cost conscious backpacker or enjoy splurging on luxury leisure, Nelson Mandela Bay will cater for your every need.
Whether your preference is a luxury hotel or a five star game lodge, a guest-house in a township or a bed & breakfast in the countryside, Nelson Mandela Bay offers you endless possibilities. Your choice ranges from accommodation with beach views to accommodation in the bush surrounded by wildlife.
Nelson Mandela Bay's intimate bed & breakfast facilities, hosted in manor houses, luxurious dwellings or ordinary...
WEATHER

We have sunny, temperate champagne-type weather nearly 365 days per year!
Our weather complements our breath-taking beaches where in summer the water temperature ranges from 18 to 21 degrees Celsius and in winter between 14 to 19 degrees Celsius, allowing ideal opportunities for snorkeling, diving or surfing.
The sea conditions are generally calm in the Bay, except when the South-easterly wind is blowing. Wide expanses of golden sands are ideal for safe and sheltered swimming and other water sport and beach activities. Most beaches are patrolled by fully-trained professional lifeguards during the summer season.
The city has three Blue Flag status beaches: Humewood, King's...
ACTIVITIES & ITINERARIES

Nelson Mandela Bay (Port Elizabeth, Uitenhage, Despatch & Colchester) has something to offer for everyone. Explore the diverse attractions on offer and never be bored!
Want to do more and save money?

The Nelson Mandela Bay Pass, a smartcard access card, provides you with free admission to a variety of attractions and activities in Nelson Mandela Bay. This includes amongst others, museums, game reserves, scuba diving, art galleries, sightseeing tours and many more. It also entitles you to some great discounts in selected stores for shopping, activities, entertainment and more. The Nelson Mandela Bay Pass offers flexibility, convenience, variety and savings
GET THE APP