Moving to Nelson Mandela Bay

Nelson Mandela Bay welcomes Transnet National Ports Authority head office move to the Bay.
As the Executive Mayor, a representative of 1.3m residents of Nelson Mandela Bay, business, labour and all stakeholders, it gives me great pleasure to welcome you all to our Friendly City of Port Elizabeth, the gateway to the Eastern Cape, a home of legends.
To the Transnet Board, Management and Employees, we say; welcome to the only City named after a great giant of the struggle for freedom and justice, the late, tata Nelson Mandela. Nelson Mandela Bay is a vibrant and diverse destination in all its offerings. Your welcome decision to move the Transnet head offices could not have come at a better time than now. As the world is looking forward to a fresh start following the devastating effects of the COVID-19 pandemic, we want to congratulate you on the bold and strategic decision you have taken, to relocate to the Port of Ngqura, a move which we know will bring you closer to your customers, enable further growth and strengthen your geographic ties with other coastal regions.
We are proud to be the City that will offer you with the newest and fast-growing port, the Port of Ngqura, adjacent to the award winning Coega Special Economic Zone, host to 45 operational investors. We have no doubt you will love your new home, the R255m newly built eMendi building which is modern and fully compliant with sustainability principles.
Your move to Nelson Mandela Bay, Port Elizabeth has created excitement and instilled hope in our people; hope that says, despite our losses due to COVID-19, there is still much positivity to look forward to. Our friendly people and all our stakeholders cannot wait to welcome you and your families to our shores.
Our schools, colleges and universities across the province are ready to open their doors for you and your families, our health workers are ready to be of service to you when the need arises. Our business and leisure stakeholders cannot wait to show you what we have to offer, to wine and dine with you, and to learn from you.
For all your Municipal related matters, we do encourage you to download our Nelson Mandela Bay Municipality App where you can transact, purchase electricity, download statements and settle your rates; via this app, you can also report any incident that is service delivery related and we will respond promptly.
Nelson Mandela Bay is open for Business.
Our business stakeholders, big and small are excited to grow with you. As an automotive hub, the move to grow in the maritime sector excites us. The possibilities are endless. As we welcome Transnet National Ports Authority, we also invite other potential investors to look at our Bay and see the possibilities that lie ahead.
The Transnet National Ports Authority head office move to Nelson Mandela Bay comes at a time when the City our City if forging a new growth path, rebuilding, and putting in place bold plans to realise the long-standing Waterfront development.
Our long-lasting relations with the existing businesses in our such as Volkswagen, Good Year, ISUZU, Aspen and many other big employers, tell a story of a City blessed with potential for growth and prosperity, after all, we are the friendly city.
The move by Transnet National Ports Authority to Nelson Mandela Bay has not only reignited hope and excitement, the relocation to the Bay has also given a glimmer of hope to the rest of the Eastern Cape Province that indeed, the possibilities are endless.
As you get ready for the exciting journey ahead, we wish you safe travels. Siyanamukela, Nam'kelekile, Le amohelehile, you are welcome in Nelson Mandela Bay – Eastern Cape, the Home of Legends.
Your Mayor,
CLLR N BHANGA
EXECUTIVE MAYOR
WELCOME TO NELSON MANDELA BAY!
Nelson Mandela Bay (Gqeberha / Port Elizabeth, Kariega / Uitenhage, Despatch and Colchester), an excellent value-for-money-family-fun-in-the-sun destination, named after Nelson Mandela - humanitarian, freedom fighter and world icon of peace - is located 763 km east of Cape Town, is regarded as the "official" gateway to the scenic Eastern Cape Province and the world renowned Garden Route and is sometimes referred to (by the people who know her best) as the "friendly city" or the "water sport capital of Africa". Nelson Mandela Bay is also recognised as both the Mohair and Bottelnose Dolphin Capital of the World and is home to the largest breeding colony of the African Penguin.
The city offers a more relaxed lifestyle and affordable living costs than any of the other cities in the country.
The only city that boasts the Big 7 (Elephant, Buffalo, Rhino, Lion, Leopard, Humpback Whale and Great White Shark) within it's municipal boundaries, Port Elizabeth (The Friendly City) is known for its over 40Km coast that boast a multitude of Blue Flag Beaches and hours of sunshine to enjoy them in. After a fun day out enjoy the fun and entertainment of the Nelson Mandela Bay nightlife.
Situated on the shores of the Indian Ocean, overlooking Algoa Bay, this bustling seaport city flaunts an atmosphere of relaxed year-round fun and excitement. Warm, dry Summers and mild Winter temperatures entice water sport lovers to Algoa Bay throughout the year. The breathtaking seashore boasts a perfect combination of warm water, protected beaches and invigorating sea breezes. Here you will find some of the world's best sailing venues, first-rate scuba diving with colourful coral species, beautiful reefs and shipwrecks, near perfect conditions for wind-surfing, angling, snorkelling, kite-surfing, fly-fishing and canoeing.
ROAD AND PUBLIC TRANSPORT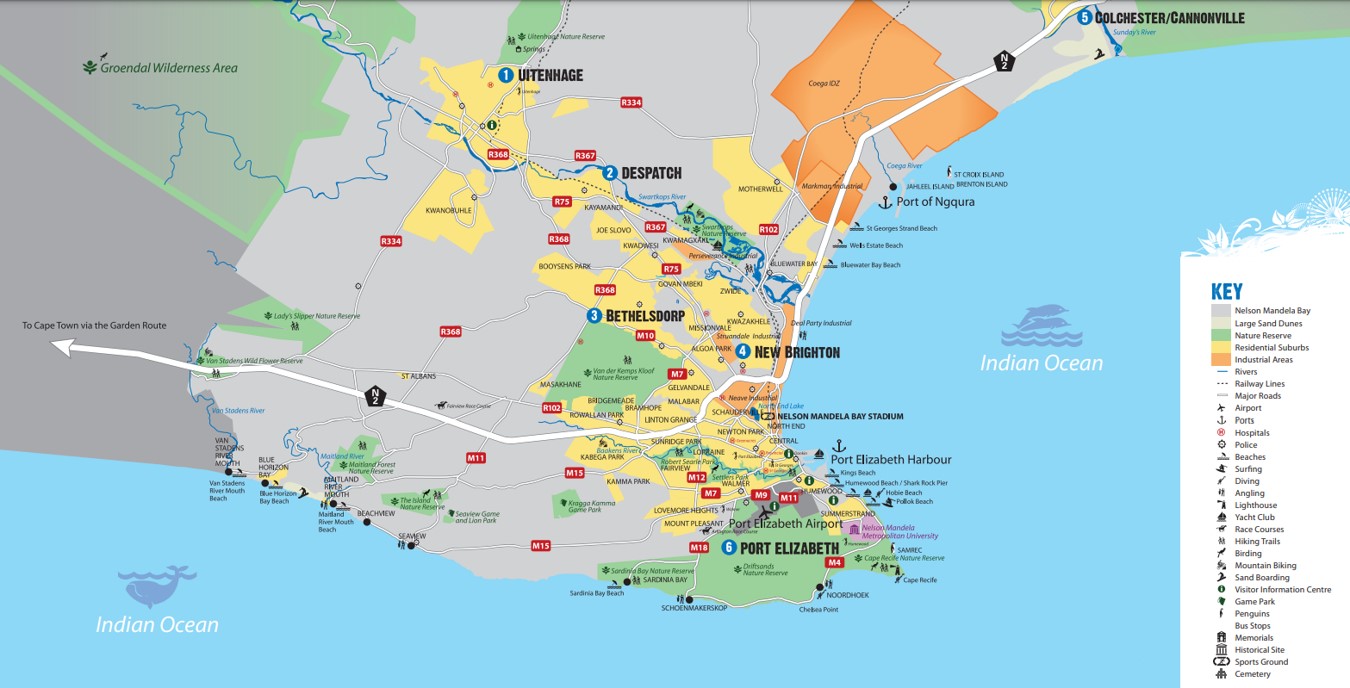 Nelson Mandela Bay's well-equipped airport, two harbours, highways and roads link Southern Africa, and the Eastern Cape in particular, with other major national and international destinations.
The centrally situated Port Elizabeth Airport is easily accessible from all parts of the city. A number of flights are available that connect Nelson Mandela Bay with domestic and international destinations, through the Durban, OR Tambo and Cape Town International Airports every day. The Airport is serviced with regular flights by South African Airways (SAA) as well as certain local and national airlines including SAA - SA Express and British Airways/Comair and Kulula as well as other...
SCHOOLS IN NELSON MANDELA BAY
Nelson Mandela Bay regularly achieves the highest pass rate of any teaching district in the Eastern Cape including more bachelor degree passes as well as the highest percentage of distinction passes compared to other districts in the province. The top performing matric learner in South Africa for 2020 completed his studies in Nelson Mandela Bay.
Primary and Secondary Education:
There is a wide variety of schools on offer. For a comprehensive list visit: https://www.schools4sa.co.za/province/eastern-cape/port-elizabeth/
Tertiary Education:
There are also various tertiary education facilities available in the city. The biggest, Nelson Mandela University, formerly...
REAL ESTATE AND ACCOMMODATION
Port Elizabeth is well known for its quality of life beating most of the major cities in South Africa. According to NUMBEO, a quality of life comparison site. There are various areas to live in and it is really easy to get around from almost anywhere in the city thus the reference – 15 minutes city.
Looking to buy or rent – check out Property 24 whom lists the majority of estate agents in the city here: https://www.property24.com/for-sale/port-elizabeth/eastern-cape/270
If you want to look around first, the city offers a wide variety of formal short term accommodation.
Whether your preference is a luxury hotel or a five star game lodge, a guest-house in a township or a bed &...
ESSENTIAL INFORMATION
The Eastern Cape is one of the prime malaria free safari areas of South Africa. The Addo Elephant Park with its large and relaxed herds of magnificent African elephants is joined by several international prize-winning private game reserve. All offer Big Five safaris, orientated towards families.
There are numerous excellent private hospitals and clinics throughout the city and region, including 3 state hospitals, 4 provincial hospitals, 4 private hospitals, 3 day hospitals, and 52 Eastern Cape Department of Health clinics.
The City also offers various other major services required.

EMERGENCY NUMBERS
AA Emergency Breakdown, tel: +27 (0) 83 843 22 or 083 THEAA / www.aa.co.za
WEATHER

We have sunny, temperate champagne-type weather nearly 365 days per year!
Our weather complements our breath-taking beaches where in summer the water temperature ranges from 18 to 21 degrees Celsius and in winter between 14 to 19 degrees Celsius, allowing ideal opportunities for snorkeling, diving or surfing.
The sea conditions are generally calm in the Bay, except when the South-easterly wind is blowing. Wide expanses of golden sands are ideal for safe and sheltered swimming and other water sport and beach activities. Most beaches are patrolled by fully-trained professional lifeguards during the summer season.
The city has three Blue Flag status beaches: Humewood, King's...
LEISURE OFFERINGS
Nelson Mandela Bay (Port Elizabeth, Uitenhage, Despatch & Colchester) has something to offer for everyone. Explore the diverse attractions on offer and never be bored!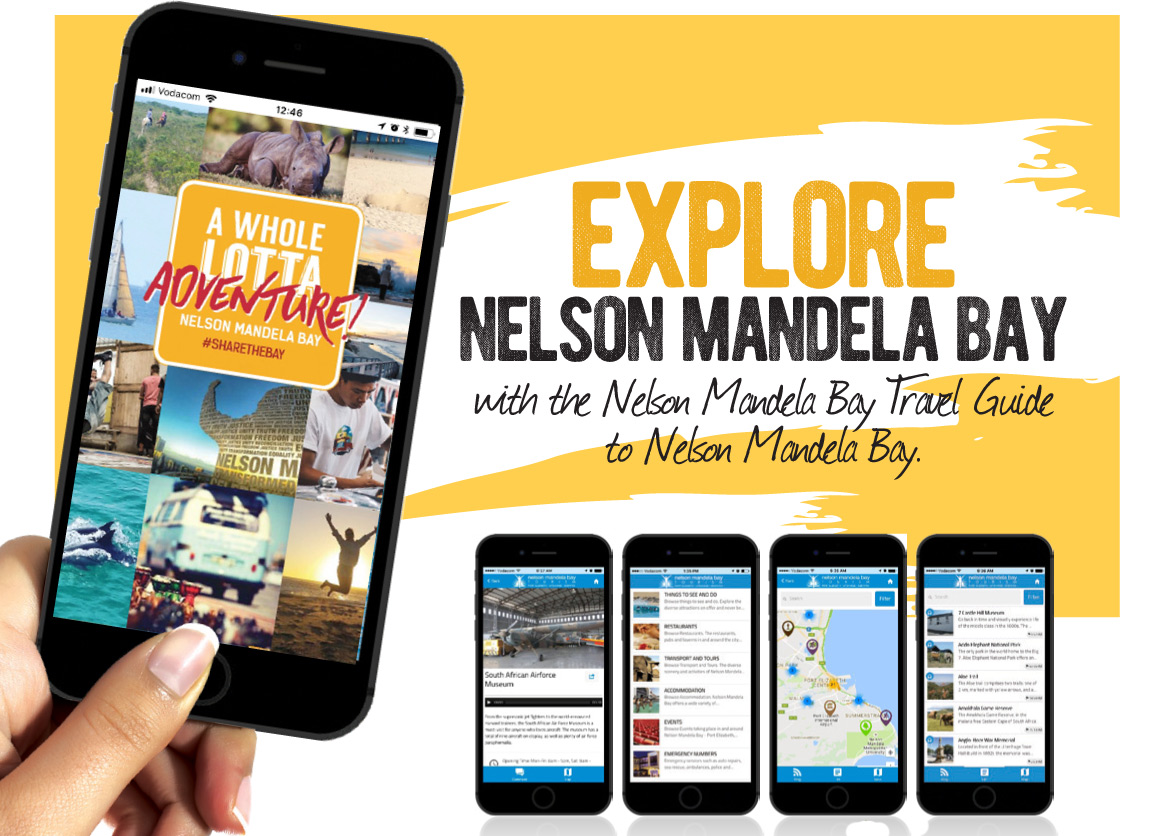 Entertainment & Shopping
Nelson Mandela Bay is the ideal fun, entertainment and shopping destination; offering various kinds of entertainment to suit every age, personality and individual. Enjoyable evening entertainment include sundowner cruises, nightclubs, award winning cocktail bars, late night music spots, fine art theatre performances, movies, restaurants and cultural performances.
Wildlife & Nature
From rocky shores to indigenous floral...
MUNICIPAL SERVICES
MUNICIPAL ONE STOP SHOP LINK:
For all municipal services you can visit http://www.nelsonmandelabay.gov.za/