Jazz'Afro Sundays @ The Barn presents Joash Soobramoney
16 July 2017 - 16 July 2017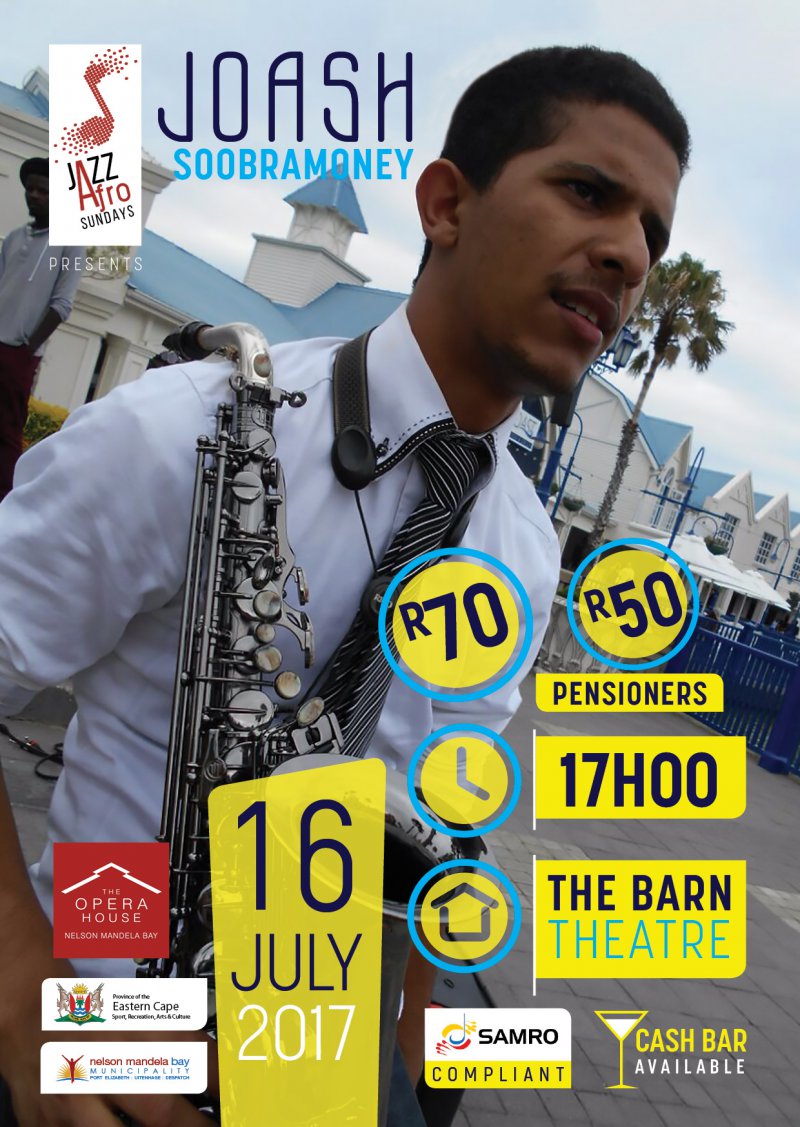 Joash Soobramoney is the penultimate act of the current cycle of our much loved weekly music programme Jazz'Afro Sundays @ The Barn. Multi instrumentalist Joash began playing the piano at the tender age of 13 and began playing the flute two years later and followed suit with the clarinet. The young protégé took up the saxophone in 2010 beginning with the Alto Saxophone. Joash has always had a love and passion for music and he has always known that he would take his passion further and grow it into a career. Through the Royal School of Music London, Joash passed his Flute practical exam with a Merit.
Whilst still a Learner at the Victoria Park High School in Nelson Mandela Bay Joash played in the Wind band, Choir and Jazz band resulting in him receiving a full scholarship from Grade 10 through to Grade 12.
Joash is currently an Honours student in Music at the Nelson Mandela Metropolitan University (NMMU) and is highly involved in the music ensembles happening in and around the university. As the versatile musician that he is, Joash currently plays for 6 different bands which vary from classical to jazz, house, electro-dance music and contemporary music. During his first and second years as a Music student at NMMU he was awarded 2nd place for the Charles Bryars Jazz Scholarship. He has recently started a recording studio taking on projects in and around his community which is bursting with a variety of young and accomplished musicians from various genres. Joash has also undertaken projects which he assists in orchestration and composition for fellow Music students and for friends of his which are Film and Art students for their end of year assignments composing music for their short films.
Joash is well on his way to becoming a seasoned performer having shared the stage and often times being invited to perform with the likes of prominent musicians such as Fletch Wiley, Bill Maxwell (founder of Koinonia), Jimmy Dludlu, legendary Nelson Mandela Bay Flugal Hornist Feya Faku, Hugh Masekela, Sibongile Khumalo, Zonke Dikana, George Benson, McCoy Mrubata, Goldfish and DJ Kent. He has performed at the National Arts Festival in Grahamstown for 2 consecutive years for 3 different productions and we have received the Standard Bank Ovation Award as part of the Asanda Mqiki band.
In 2015, his band The Rhinkals performed with Asanda Mqiki and once again received the Standard Bank Ovation Award and took it a step further and they were one of 3 groups who received the Standard Bank Gold Ovation Award out of close to 1,000 other performances of that year. As a result of their excellence the band was invited to perform at the OppiKoppi Festival in Limpopo in 2016 playing to a crowd of close to 500. That same year Joash also had the opportunity to perform with monumental artists such as Liesl Graham, Lira and Judith Sephuma at the Diva's In Spring Concert held at Victoria Park in Port Elizabeth.
2017 thus far has been an interesting year as he has diversified his sound and gotten more invitations to be part of more house and pop events, such as AirForce 1, Easter Cove in St. Francis Bay with many more in the near future.
Having recently started playing the Cello, Joash is sure to be an even bigger and a more mature musician as he is constantly pushing the limits in performing and honing his sound.
Performing with Joash on Sunday will be Mthokozisi Mabuza on Keys; Thoba Goba on Drums; Curt Rix on Trumpet; Hezron Armoed on Guitar and Elviro Vrolik on Bass Guitar.
Opening Times
17h00
Costs
R70 per person; R50 per pensioner
Contact Details
Where
Venue:
The Barn at the PE Opera House
Event Address:
John Kani (Whites) Road
Central
Port Elizabeth
MAP
Latitude : -33° 57' 45.08" S | Longitude : 25° 37' 18.50" E