CAMELOT by Victoria Park High School
17 May 2017 - 20 May 2017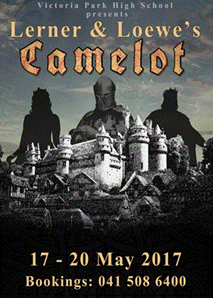 CAMELOT - VICTORIA PARK HIGH SCHOOL

This timeless tale of King Arthur and the knights of the Round Table in the famous Lerner and Loewe musical will be staged in the Blake Hall, Victoria Park High School from 17-20 May 2017.

The legend of 'Camelot' follows Arthur, from a young, ambitious, idealistic king who dreams of creating a just society to a king bearing witness to this dream's demise. When his beloved wife Guenevere falls in love with Arthur's most celebrated, loyal knight Lancelot, everything begins to unravel. The troubles intensify when Arthur's illegitimate son Mordred sets out to destroy Arthur and his dream.

The musical has memorable numbers such as Camelot, The Simple Joys of Maidenhood, The Lusty Month of May, If ever I would leave you, and many others.

Directed by Mariette van der Walt with Musical Director Marlon Louis, Vocal Director Liske Potgieter and Choreographer Catherine Gouws, CAMELOT is definitely a show not to be missed.

Tickets are R70 for adults and R50 for scholars.
A special BLOCK BOOKING price of R40 is offered to groups of 20 or more.

For more information please contact Sharon Williamson at 041 508 6400

PLEASE NOTE - School Groups Special on Wed 17 May at 10h00 - only R30 for groups of 20+.
**
Costs
Tickets are R70 for adults and R50 for scholars
Contact Details
| | |
| --- | --- |
| Contact Person: | Sharon Williamson |
| Telephone: | +27 (0) 41 508 6400 |
Where
| | |
| --- | --- |
| Venue: | Blake Hall, Victoria Park High School |
| Event Address: | 1st Ave, South End, Port Elizabeth, 6001 |
MAP
Latitude : -33° 58' 35.33" S | Longitude : 25° 36' 48.38" E