CHARL DU PLESSIS TRIO
05 May 2019 - 05 May 2019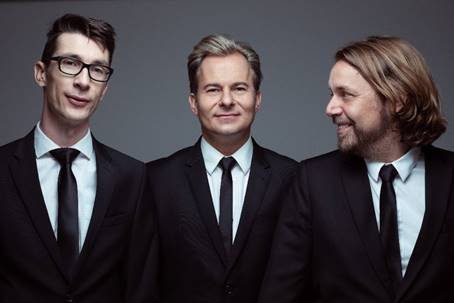 The CHARL DU PLESSIS TRIO will play for the PE Music Society on Sunday, 5 May at 15h00 in the NMU South Campus Auditorium.
The Charl du Plessis Trio is one of the most versatile and respected crossover ensembles in South Africa and performs from Stellenbosch to Shanghai! The diverse style of music this ensemble performs ranges from Baroque, Latin, Swing, Classical to Funk and sets them apart from other instrumental groups. The trio consists of Steinway Artist Charl du Plessis (piano), Werner Spies (bass) and Hugo Radyn (drums).
album TRIO in 2007 with new arrangements of jazz standards and original music by Charl du Plessis.
Charl du Plessis is a Steinway Artist and one of the most respected pianists in South Africa performing across various styles and disciplines and as soloist with some of the country's leading symphony orchestras. Werner Spies is a multi-talented bass player and teacher. Hugo Radyn is a free-lance jazz drummer and teacher high in demand for his specialised musicianship and quality of playing.
For their concert in PE 'new" arrangements of favourite and well-known classical melodies such as Beethoven's Für Elise as well as of a few famous opera arias from Mozart to Bizet could be heard.
This is really a concert not to be missed. Please join us for an enjoyable afternoon of music and bring your friends and family along.
Opening Times
14h30 for 15h00
Costs
Adult: R95 / Pensioers: R80 / Students: R40 (with student cards) / Scholars: R35
Contact Details
Where
Venue:
NMU South Campus Auditorium
Event Address:
NMU South Campus
Summerstrand
MAP
Latitude : -34° 0' 33.24" S | Longitude : 25° 40' 10.14" E