Donkin Downhill Dash 2014
22 November 2014 - 22 November 2014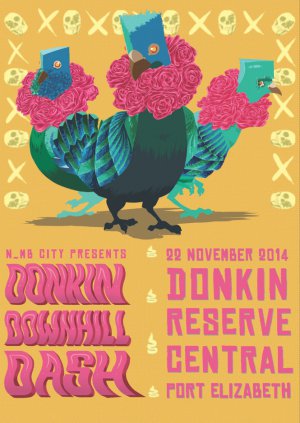 The Donkin Downhill Dash has become a sought after, popular downhill skating event that is attractive not only to long and skate boarders, but to a broader community which is interested in urban or alternative sports, culture, music and art and the integration of these. It brings these people together with the community living in Central and families from across the city. The high impact time trial skating event is a fun-filled showcase of sport, tourism product, public art and the beautiful inner city.
This year we are expanding the scope of the Donkin Downhill Dash to include an Alley Cat race which will see bicycle enthusiasts race through the inner city, starting and ending at the Donkin Reserve on the same day as the Donkin Downhill Dash, thereby expanding participation and interest in the event.
It will also include an open fun run for "anything on wheels" where members of the public can take to the track on wheeled transport of their choice.
Date: 22 November 2014
Time: 9am – 5pm
Venue: Donkin Reserve, Central, Port Elizabeth – utilising mainly the Voting Queue Path
Support offered: Technical tent, safety equipment available, medic on site
Entertainment: Music (bands and DJ's) & MC's (to coordinate racing and keep the crowd entertained); open mic and live graffiti art
Entrance fee: R150 for Downhill competitors | R30 for Anything on Wheels - Register online at http://numbcity.co.za/ddd/.
Spectators: Free Entry
Side line events:
Alley Cat city ride
"Anything on Wheels" fun run
Skate ramp and clinic
BMX showcase
Prize giving & Afterparty: 6pm @ Bay Studios on Chapel Street
For more info on the Donkin Downhill Dash contact Numb City Productions as per details below.
Contact Details
Where
| | |
| --- | --- |
| Venue: | Donkin Reserve |
| Event Address: | Donkin Reserve, Central, Port Elizabeth |