EC Region Tourism Industry Road Show
29 October 2019 - 29 October 2019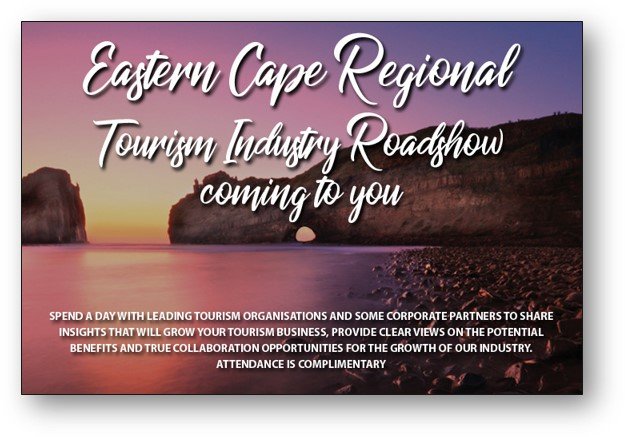 As we embark on our journey of reviving the Provincial Tourism Forum (PTF) ECPTA has decided to kick start this process by working with TBCSA in planning and creating a platform where TBCSA and other tourism industry stakeholders will visit Eastern Cape for an industry road show. The purpose of the road show is to empower tourism businesses with new product information and opportunities available from both public and private sector organisations at a national level.
Over and above TBCSA presenting, well-known tourism industry leaders listed below will also be part of the roadshow:
NAA-SA, a national sector association that represents small accommodation from 1 – 10 bedroom establishments. They will present on the role of their organisation in the tourism industry and benefits for belonging to the organisation.
Bryte Insurance is part of the road show and offers tourism businesses preferred rates to insure their properties or vehicles and educate tourism products owners on how to mitigate risks in their businesses.
Technology and data management is critical in our industry – a new organisation launched at Indaba, namely JURNI South Africa, will present on the new technology to be developed, that will assist the SMMEs in the tourism industry.
TBCSA will present on its role and the role of the Tourism Marketing Levy South Africa and encourage tourism business to collect the levy.
SA Tourism Domestic Tourism team will share opportunities available for tourism businesses of all sizes.
Government will inform tourism products of funding opportunities available including guidance on how to apply for the funding.
Business Tourism is also an important sector in our industry, The National Convention Bureau will present on the opportunities available for a MICE destination. A Bidding Fund is another opportunity that tourism products can tap into, to increase business tourism into the province.
We find our strength in partnerships, therefore, collaboration is key and the roadshow is an indication of both public and private sector working together to develop and grow the tourism industry, to reach the 21 million arrivals by 2030 as stated by the President of SA in the recent SONA.
Moving on from this roadshow, the PTF platform will be revived (meeting on a quarterly basis) as a communication platform where we share ideas and provide information to ensure that there is a better communication synergy between key local public and private sector partners. This platform will also be used to provide update where necessary on the state of tourism in the province through the release of statistics showcasing tourism growth, launch of Tourism Month, INDABA, major events, bids communication, tourism support programs and a lot more.
Opening Times
08h30 for 09h00
Contact Details
Where
Venue:
Beach Hotel
Event Address:
Marine Drive
Summerstrand