Esselenstraat - Die Toneelstuk
30 October 2019 - 02 November 2019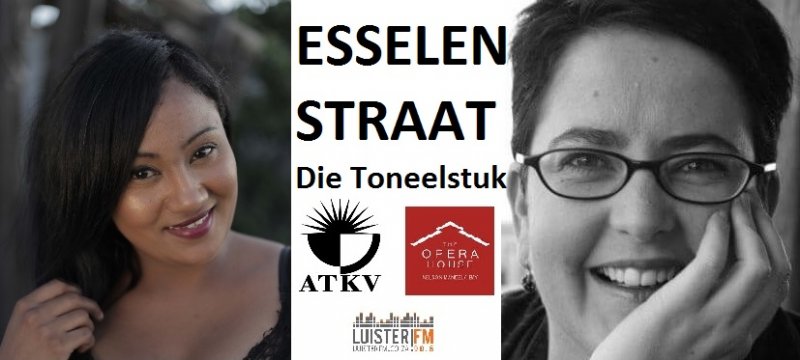 Moenie hierdie skreusnaakse toneelstuk misloop nie.
ESSELEN STRAAT
Die Barn Teater, PE Operahuis
30 Oktober tot 2 November 2019 - 19h00
2 November 2019 - 14h00
Enkel Kaartjie R100
Dubbel Kaartjie R150
Studente/Pesionarisse R50
Vooraf bespreekte kaartjies beskikbaar deur Robert 083 697 1800 of robert@highwinds.co.za of by die deur

Selfs vriendskap kan 'n mens soms onverhoeds betrap. Die nuwe Afrikaanse toneelstuk, 'Esselenstraat', gee 'n blik op die onwaarskynlike band tussen 'n Afrikaanse tannie van amper 80 en 'n jong Nigeriese vrou. Kom stap met lag en traan 'n pad saam met hierdie sterk vroue. 'Esselenstraat' is op die bekroonde toneelstuk London Road gebaseer en sy debuut - van 30 Oktober tot 2 November – in die Barn by die Operahuis, beloof 'n hoogtepunt op die teaterkalender te wees.

Even friendships can sometimes catch you unawares. The new Afrikaans play, 'Esselenstraat', is a glimpse into the unlikely link between an African woman of almost 80 and a young Nigerian woman. Come laugh and cry with these strong women. 'Esselenstraat' is based on the award-winning play London Road and its debut is from October 30 to November 2 in the Barn at the Opera House, promises to be a highlight on the theater calendar.
Opening Times
30 Oktober tot 2 November 2019 - 19h00 en 2 November 2019 - 14h00
Costs
Enkel Kaartjie R100 - Dubbel Kaartjie R150 - Studente/Pesionarisse R50
Contact Details
Where
| | |
| --- | --- |
| Venue: | Port Elizabeth Operahuis, Die Barn |
| Event Address: | Opera House, John Kani Road, Central, Port Elizabeth |
MAP
Latitude : -33° 57' 45.57" S | Longitude : 25° 37' 17.58" E