Family Drive In Cinema & Picnic Under the Stars
14 January 2022 - 14 January 2022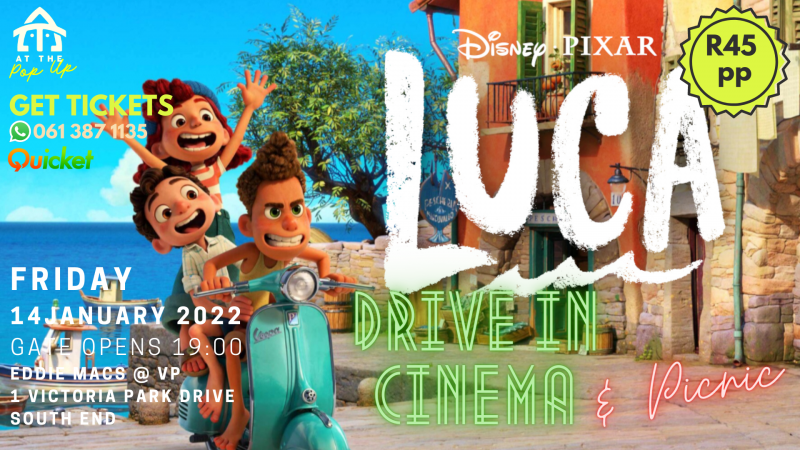 Let's end the Festive Season with some outdoor fun with the family.
Invite the neighbours, family & friends, to a lovely Summer evening out, under the stars, at the movies.
Bring along your cozy blankets, cushions and favourite snacks. The restaurant/pub offers a full menu and card facilities. Popcorn will also be on sale at the venue.
Please note that ticket sales are still limited, therefore pre-bookings are essential.
GET TICKETS
R45 per person (under 3 years free)
WhatsApp: 061 387 1135
At the Gate: R60 per person

PLEASE NOTE:
Should the event be postponed, the backup date will be announced.
The event will only get postponed due to poor weather conditions - 30 km/hr gusts or rain.
All ticket holders will be notified 8 hours prior to the event starting time.
Please bring a portable FM stereo device with you, should you not have a car radio.
Masks are a MUST when in public spaces outside of your vehicle.
Social distancing should be applied at ALL times in the public areas.
All vehicles will be ushered to a designated parking spot on arrival. Please remain patient while our marshals park vehicles to give everyone maximum visibility from the vehicles.

SAFETY FIRST: Please drive slow. 20km/hr max speed on-site.
See you at the MOVIES!
Opening Times
19h30
Costs
R45 per person
Contact Details
Where
Venue:
Eddie Macs Pub (Sports Field) at VP
Event Address:
1 Victoria Park Drive
South End
MAP
Latitude : -33° 58' 32.79" S | Longitude : 25° 37' 7.91" E