FriYay Family Night - Outdoor Movie Experience
08 February 2020 - 08 February 2020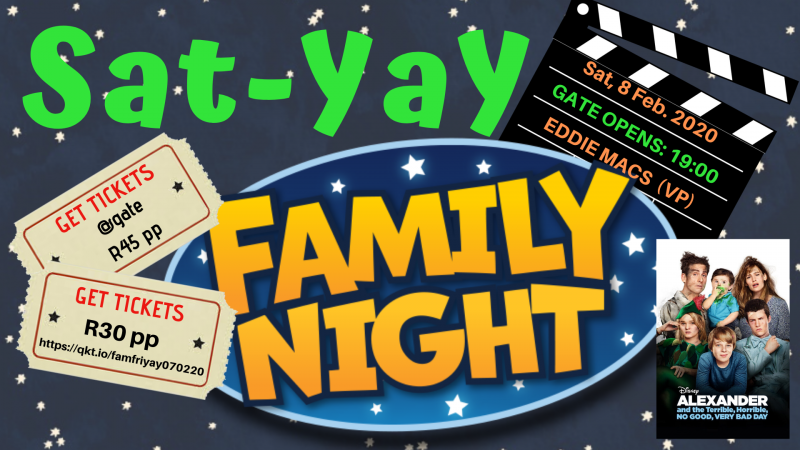 Where to take the Family on Friday? Well, here we go! February isn't only for the Valentine birds, we also offer Family FriYays to those who remember where it all started (kids included).

Let's meet up at Eddie Macs Sports Pub (VP Sports club) for some family film fun...

Book your tickets to save a penny for that slush, soft serve, delicious ribs, milkshakes, popcorn, long-awaited beverage... or just good ol fun with your dearest.

Bring along the neighbourhood, friends, kids and your granny.. We cater to all!!

Tickets are available at the gate, it sure pays to book in advance. Save a dime or five...

See you at the movies!!

PLEASE NOTE:

*On-screen entertainment only starts at sunset and the movie starts when the sun is down.

* Please support our venue food & beverage partners. The pricing is fair and affordable. Menu options cater to ALL.

*Strictly NO refunds

*Tickets are redeemable at upcoming events (t&c's apply)

*Weather dependent - We look after our guests (and our equipment). No cinema if the wind forecast exceeds 20km/hr or rainfall.

*Feel free to WhatsApp text on 0613871135 for information or inquiries.


SEE YOU AT THE MOVIES!
Opening Times
19h00
Costs
R30 pp
Contact Details
Where
Venue:
Eddie Macs at VP
Event Address:
Eddie Macs at VP Sports Club
Victoria Park Drive
Port Elizabeth
6001
MAP
Latitude : -33° 58' 31.42" S | Longitude : 25° 37' 7.05" E