iKanana My Boarding School
30 August 2017 - 02 September 2017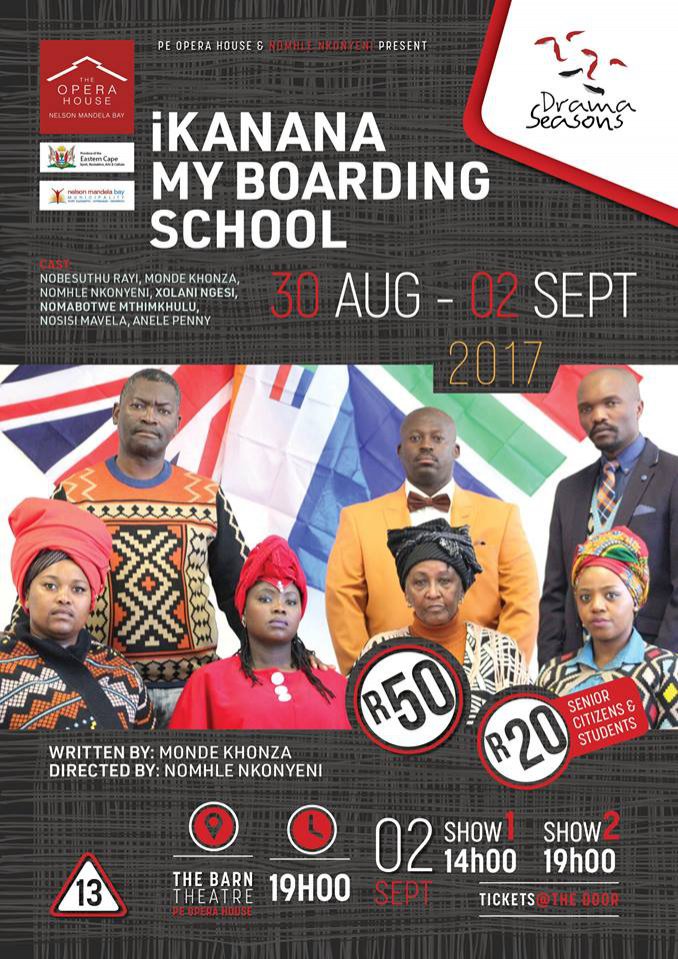 The Production
The production takes us from how Democracy was won in South Africa as well as the sacrifice made to attain it, to the disappointments experienced and the current state of South Africa. This will be depicted through criticism on the conduct of the SGB and how it is managing or rather the mismanagement of the school. This will give our audiences the opportunity to be part of history told from a different perspective.
The production deals with all the social ills that are ailing South Africa by showcasing the issues in a school environment. This rich and stunning visual piece is infused with history accompanied by impact music to evoke nostalgic moments amongst the audience. The production is filled with lessons for both young and old and will not only chastise the SGB (Government) but also offers advice on how to get what has been lost.
My Boarding School is written by Monde Konza, directed by Nomhle Nkonyeni starring Anele Penny; Nobesuthu Rayi; Xolani Ngesi; Nomhle Nkonyeni; Nomabotwe Mtimkhulu and Nosisi Mavela.
About the Producer
Monde Konza was born and raised in Port Elizabeth, Eastern Cape He spent 10 years in the former Ciskei Homelands where he completed his high school In 1989 and later enrolled at the University of Fort Hare in Alice where he obtained his degree.
During his days at Fort Hare he joined the Drama Society, where he excelled in script writing and stage performance. At Fort Hare Monde toured throughout the Eastern Cape where he performed plays such as 'Ilifa' and 'Dark Days', where he shared the stage with the likes of the late Nkululeko Dlamini and Thembinkosi Hena who featured in Ityala Lamawele as Phekeza.
Monde was also featured in Ityala Lamawele where he was working with the late Ben Nomoyi, he also worked with Ben Nomoyi, in Cross roads performed in Port Elizabeth. Monde continued to feature in TV productions such as 'Tshatsha' as a taxi driver and representing union of the taxi drivers. He was also given a standing ovation in the first introduction of 99% Xhosa Comedy in Port Elizabeth where he shared the stage with the likes of Celeste Ntuli, Ndumiso Lindi and Ntosh Madlingozi. He later ventured into building construction whilst in construction he is busy working with corporate as MC or Programme Director and stage performances. Monde Khonza's 'iKanana My Boarding School' opens at the Barn Theatre PE Opera House on Wednesday 30th August at 19:00 and will run until Saturday 03 September. This Drama Seasons productions is Directed by Nomhle Nkonyeni and stars Anele Penny, Nobesuthu Rayi, Monde Konza, Xolani Ngesi, featuring Nomabotwe Mtimkhulu & Nosisi Mavela.
About Drama Seasons
Drama Seasons at The PE Opera House is commissioned works staged every month for a week long short run. This programme is designed to breathe life into ready productions that are produced largely by local based experts.
Your Experience At The Venue
A cash bar is available at the Ideas Corner Bar (Upper Foyer) and the Sweet Counter at the Ground Floor [open an hour before the show begins and after the show].
Show Dates : 30 August – 02 September 2017
Venue : The Barn Theatre, PE Opera House
Time : [30 August – 01 September 19:00
[02 September] 14:00 and 19:00
Admission : R50.00 (Students and Pensioners are R20.00) limited seating be sure to be early
Opening Times
30 Aug - 2 Sep at19h00; 2 Sep 14h00 and 19h00
Costs
R50 for adults; R20 for scholars and senior citizens
Contact Details
Where
Venue:
The Barn Theatre at the PE Opera House
Event Address:
John Kani Street,
Central,
Port Elizabeth