Ingredients of Success Seminar
10 August 2019 - 10 August 2019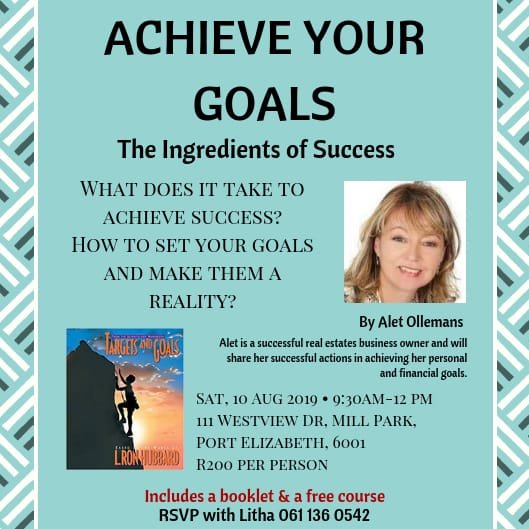 How does one get things done? How does one make a dream a reality or carry a plan through to completion?
Many of us seem to have unrealized goals or incomplete plans and many of us face tasks that appear overwhelming, even impossible to achieve.
In this session, you will discover how to attain literally any goal, large or small. Plans can be carried through to fruition, but a number of vital steps must be taken, one after the other.
You'll learn what these steps are and how to apply them to anything – a personal ambition, a family, a group, a business and more. You'll learn that your dreams can become real.
Achieve your goals with the Ingredients of Success Seminar.
Learn the following:
WHAT DOES IT TAKE TO ACHIEVE SUCCESS?
HOW TO SET YOUR GOALS AND MAKE THEM A REALITY?

Guest Speaker: Alet Ollemans.
Alet is a successful real estates business owner and will share her successful actions in achieving her personal and financial goals.

Date: Saturday, 10 Aug 2019
Time: 9:30AM-12 PM
Venue: 111 Westview Drive, Mill Park, Port Elizabeth, 6001
Entry: R200 Per Person (Includes a booklet & a free course)

RSVP via Whatsapp: Litha 061 136 0542 (or click here: https://wa.me/27611360542)

Success Quote:
"As an ambitious and creative person I often have ideas about ways in which I could improve my life or the lives of the people around me, my family and friends. However, often these ideas come and go without ever seeing fruition. Every day I face new challenges in life and until now I have found it easy to procrastinate or to drop plans because I let barriers get in my way.
"The technology in fact gave me an entirely different outlook on planning and made me realize I had a very idealistic and unreal outlook on how to achieve success. I thought that one day it would just work out and that that would be it. Now, while understanding that it will take hard work and determination to achieve success I feel confident that this technology has given me a support system to which I can constantly refer.
"I already have the proof of how amazing this technology is. The goal I set myself as one of my practicals is something I have been thinking about doing for months, yet had made no effort to get going and do something about it. Now, not only do I have a strategy to complete this project, but very detailed targets to use in order to realize my idea. I now look to the future waiting for challenges to arise with the knowledge that these will not be negative things but opportunities to use good strategy and planning in order to achieve success!" –G.C.

RSVP Now:
Opening Times
09:30 - 12:00
Costs
200
Contact Details
Where
| | |
| --- | --- |
| Venue: | 111 Westview Drive, Mill Park, Port Elizabeth, 6001 |
| Event Address: | 111 Westview Drive, Mill Park, Port Elizabeth, 6001 |
MAP
Latitude : -33° 57' 8.39" S | Longitude : 25° 34' 31.76" E