Ironbus City Sightseeing Hop On Hop Off Bus Tours
29 August 2018 - 04 September 2018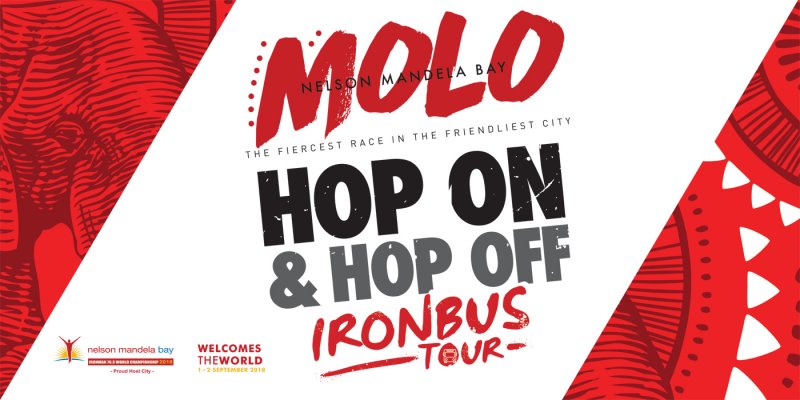 Come and explore Port Elizabeth - Nelson Mandela Bay on this FREE City Sightseeing Hop On Hop Off Bus Tours. Guided tours of Port Elizabeth's beachfront and historically significant city centre.

The Ironbus service is similar to other City Sightseeing Bus Services in that it is a guided sightseeing tour that allow visitors to get on and off at any point along the circular route. This allows visitors to get to various attractions, get off and explore, and then get back on the bus to continue the tour.

The 2 hour circular route runs from Cape Recife Nature Reserve along the beachfront to the city centre, around St Georges, past the Donkin Reserve and then back to Cape Recife Nature Reserve. The bus will be running from 29-31 August 2018 and then again from 3-4 September 2018.

The bus will stop and depart at each point listed below at the mentioned times below every hour and thus passengers can get on and off at the stop closest to their location.
Bus Departure Times

Bus Stop
Bus 1
Bus 2
Bus 1
Bus 2
Bus 1
Bus 2
Bus 1
Bus 2
Bus 1

Hobie Beach (Opposite Beach Hotel)

8:00 AM

9:00 AM

10:00 AM

11:00 AM

12:00 PM

1:00 PM

2:00 PM

3:00 PM

4:00 PM

Pollok Beach

8:04 AM

9:04 AM

10:04 AM

11:04 AM

12:04 PM

1:04 PM

2:04 PM

3:04 PM

4:04 PM

Summerstrand Hotel

8:07 AM

9:07 AM

10:07 AM

11:07 AM

12:07 PM

1:07 PM

2:07 PM

3:07 PM

4:07 PM

Pine Lodge Boom

8:09 AM

9:09 AM

10:09 AM

11:09 AM

12:09 PM

1:09 PM

2:09 PM

3:09 PM

4:09 PM

Cape Recife Lighthouse

8:12 AM

9:12 AM

10:12 AM

11:12 AM

12:12 PM

1:12 PM

2:12 PM

3:12 PM

4:12 PM

SANCCOB (Penguin Rehab Centre)

8:26 AM

9:26 AM

10:26 AM

11:26 AM

12:26 PM

1:26 PM

2:26 PM

3:26 PM

4:26 PM

Pine Lodge Boom

8:32 AM

9:32 AM

10:32 AM

11:32 AM

12:32 PM

1:32 PM

2:32 PM

3:32 PM

4:32 PM

Summerstrand Hotel

8:34 AM

9:34 AM

10:34 AM

11:34 AM

12:34 PM

1:34 PM

2:34 PM

3:34 PM

4:34 PM

Pollok Beach

8:38 AM

9:38 AM

10:38 AM

11:38 AM

12:38 PM

1:38 PM

2:38 PM

3:38 PM

4:38 PM

Hobie Beach (Caltex)

8:41 AM

9:41 AM

10:41 AM

11:41 AM

12:41 PM

1:41 PM

2:41 PM

3:41 PM

4:41 PM

City Lodge Bus Stop

8:47 AM

9:47 AM

10:47 AM

11:47 AM

12:47 PM

1:47 PM

2:47 PM

3:47 PM

4:47 PM

Bayworld

8:50 AM

9:50 AM

10:50 AM

11:50 AM

12:50 PM

1:50 PM

2:50 PM

3:50 PM

4:50 PM

Kings Beach

8:52 AM

9:52 AM

10:52 AM

11:52 AM

12:52 PM

1:52 PM

2:52 PM

3:52 PM

4:52 PM

Humerail Bus Stop (Engen)

8:56 AM

9:56 AM

10:56 AM

11:56 AM

12:56 PM

1:56 PM

2:56 PM

3:56 PM

4:56 PM

South End Museum

8:59 AM

9:59 AM

10:59 AM

11:59 AM

12:59 PM

1:59 PM

2:59 PM

3:59 PM

4:59 PM

Tramways Bus Stop

9:03 AM

10:03 AM

11:03 AM

12:03 PM

1:03 PM

2:03 PM

3:03 PM

4:03 PM

Campanile

9:05 AM

10:05 AM

11:05 AM

12:05 PM

1:05 PM

2:05 PM

3:05 PM

4:05 PM

Fort Frederick

9:10 AM

10:10 AM

11:10 AM

12:10 PM

1:10 PM

2:10 PM

3:10 PM

4:10 PM

GFI Art Museum Bus Stop

9:15 AM

10:15 AM

11:15 AM

12:15 PM

1:15 PM

2:15 PM

3:15 PM

4:15 PM

St Georges Bus Stop

9:21 AM

10:21 AM

11:21 AM

12:21 PM

1:21 PM

2:21 PM

3:21 PM

4:21 PM

Donkin Reserve

9:26 AM

10:26 AM

11:26 AM

12:26 PM

1:26 PM

2:26 PM

3:26 PM

4:26 PM

Feather Market Centre

9:41 AM

10:41 AM

11:41 AM

12:41 PM

1:41 PM

2:41 PM

3:41 PM

4:41 PM

South End Museum

9:44 AM

10:44 AM

11:44 AM

12:44 PM

1:44 PM

2:44 PM

3:44 PM

4:44 PM

Humerail Bus Stop

9:48 AM

10:48 AM

11:48 AM

12:48 PM

1:48 PM

2:48 PM

3:48 PM

4:48 PM

Kings Beach

9:50 AM

10:50 AM

11:50 AM

12:50 PM

1:50 PM

2:50 PM

3:50 PM

4:50 PM

McArthurs Bath Bus Stop

9:53 AM

10:53 AM

11:53 AM

12:53 PM

1:53 PM

2:53 PM

3:53 PM

4:53 PM

Humewood Beach Bus Stop

9:56 AM

10:56 AM

11:56 AM

12:56 PM

1:56 PM

2:56 PM

3:56 PM

4:56 PM
You can view the full route and bus stop locations here:
Opening Times
First Bus departs at 8am from Hobie Beach Stop - See schedule
Costs
FREE
Contact Details
Where
| | |
| --- | --- |
| Venue: | Various |
| Event Address: | Hobie Beach, Port Elizabeth |
MAP
Latitude : -33° 58' 54.05" S | Longitude : 25° 39' 33.35" E