ISPILI MAGAZINE VOLUME II: ISINGQI ACTIVATION PE
27 October 2019 - 27 October 2019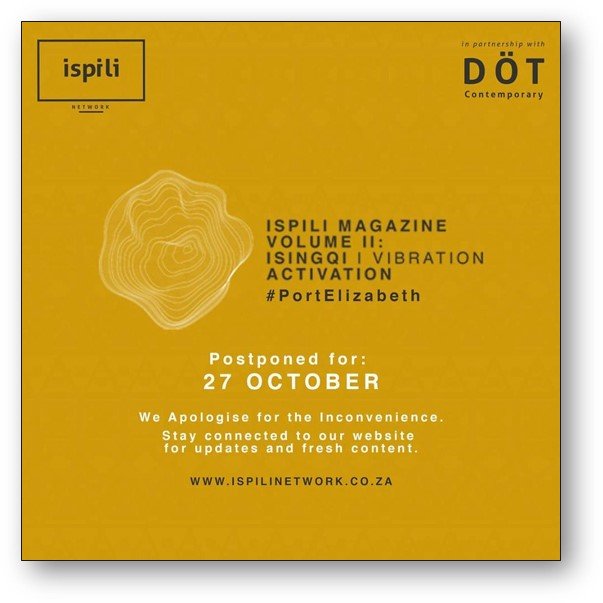 The second volume of ISPILI Magazine is a tribute to Eastern Cape born cultural worker, storyteller, healer and Xhosa music bow master, Madosini. For this issue, we're interested in the various ways of knowing around ISINGQI /sound-ing, the diverse vibrational/ sonic dimensions and how they in themselves are modalities of knowing and traversing the universe, of communicating, channeling: the relationship between the sonic and ontic.
For this intended activation we aim to curate a space that promotes healing through ritual:
interaction, collaboration and participation.
This will be achieved through pop-up exhibition, sound installation, live sonic transmissions, dialogue, and a short film screening.
Our guests for this event are Jazz-Infused-Xhosa-Folk femme duo THESIS ZA.
ISPILI Magazine Volume II: ISINGQI | Vibration Activation is proudly brought to you by ISPILI Network in partnership with DÖT Contemporary.
Tickets Prices:
Early Bird ticket - R50.00 per person
Normal ticket - R70.00 per person
Double tickets - R120.00 per couple
Opening Times
15h00 till 18h00
Contact Details
Where
Venue:
Heritage Cafe, Donkin Village
Event Address:
25 Constitution Hill, Central
Port Elizabeth, Eastern Cape 6001 South Africa
MAP
Latitude : -33° 57' 36.79" S | Longitude : 25° 37' 11.21" E