Jazzy, Boozy, Cheezy (JBC) Affaire
26 September 2015 - 27 September 2015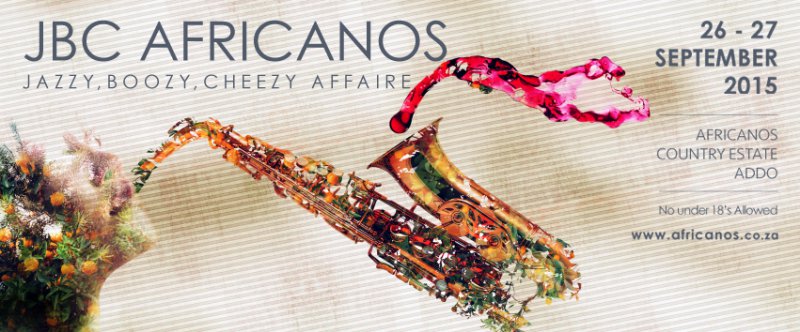 Jazzy, Boozy, Cheezy (JBC) Affaire will be hosted at the up-market Africanos Country Estate outside Addo in the picturesque Sundays River Valley over the weekend of September 26 and 27.
"With the citrus trees in full bloom, we believe it is the perfect venue to host an event that will delight all five senses," says organiser Jenni Honsbein.
Greeting guests long before they arrive will be the heady scent of orange blossoms, which envelopes the Sundays River Valley over September and October.
"It really is one of the best times of the year to get out into the beautiful countryside which is so near to Port Elizabeth.
"The scent of the orange blossoms is described by some cultures as 'aphrodisiacal'.
"Orange blossoms are also traditionally associated with good fortune, which is why they are so popular in bridal bouquets and head wreaths for weddings. So there is no better harbinger of the spring promise of new beginnings," says Honsbein.
"Delighting the ear will be live jazz which will be played throughout the weekend by an eclectic mix of some of the province's top jazz musicians.
"Taste buds will be titivated by fine wines, full-bodied craft beers, aromatic coffee, local hand-crafted cheeses, artisan chocolates, oysters, sushi and more.
"We are bringing the Cape Winelands to the Sundays River Valley. Some of the top estates in the country will be represented at the JBC," she says
Beer lovers will be able to savour some of the country's finest craft brews, some of which are new to the Sundays River Valley.
"Eyes will feast on a special floral display by German-trained designer Fayette Scherwinski.
"The flowers will be paired with neroli – an essence obtained from the bitter orange tree – as well as food.
"It will all come together as a feast for the senses at the JBC Affaire which, judging by the enthusiastic response to the concept, will become an annual event," she says.
Special accommodation packages will be available from Africanos and other guest houses and boutique hotels in the Sundays River Valley.
Contact Details
Where
Venue:
Africanos Country Estate
Event Address:
Off the R336
Addo
Eastern Cape