LAKE FARM CENTRE CHARITY RUN & RIDE 2019
23 March 2019 - 24 March 2019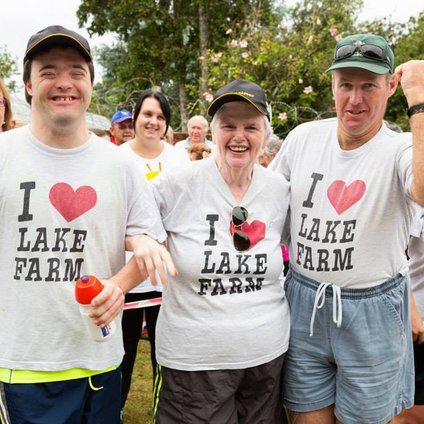 The 24th edition of the Lake Farm Centre Charity Run & Ride will be held on the weekend of 23 & 24 March 2019. Die Burger and PE Express have confirmed their media partnership for the 2019 event.
As always, the ultimate goal is to raise much-needed funds and create awareness for Lake Farm Centre, a residential centre for physically and intellectually challenged adults. We also intend for the sponsors and participants of this event to enjoy a safe, fun and meaningful family experience. The biggest highlight for the residents is to mingle with the community at this wonderful family affair.
The 24th edition will consolidate the weekend of family activities :-
on Saturday:-
the three road events - a 5km & 10km road walk/run and a 24km training run;
three trail events - 2km, 4km and 15km trail walk/run; and
on Sunday:-
three fun mountain bike events - a 3km Kiddies ride (the good); 6km 14km (the bad) and 20km (the ugly!) fun mountain bike rides through the neighbouring countryside.
PLUS this year we also have a 20km E-bike category!!!
Entrants will enjoy the Lake Farm Centre's famous scones and tea/coffee, as well as pancakes and boerewors rolls.
The event will end off with the popular Lake Farm Centre's Band performing, prize-giving, lucky draws and the fun Charity Auction.
Pre-entry online facility: please see the event banner on this page and 'click" and enter.
All the details of all the distances and times of different events are available by following the event banner link here above.
Late-entries will be on the morning before the event at the Lake Farm Centre registration hall.
Fun Run/Walk event organiser: Saturday 23 March 2019
Graham Channon: 078-1849723
Fun Bike event organiser: Sunday 24 March 2019
Ian Moore 081-3925761
Please contact our Sponsorship and Event Co-ordinater, if you are interested in our sponsorship opportunities:
Linda Harwood 083-3100750
Fun Run and Ride Events Program Information:
Please note that this year all entries for both the runs and rides will be online, with only late entries on race day completing an entry form at registration with a late entry fee.
Posters and event flyers will be distributed at running and cycling shops from next week.
RUN: (Saturday 23 March)
EVENT ONLINE LATE ENTRY
5:00 BIG TREE 24KM R70 R70 (training run)
6:30: ROAD 10KM R60 R60
6:40: TRAIL 15KM R100 R120
7:00: TRAIL 4KM R50 R60
7:45: TRAIL 2KM R30 R40
8:00: ROAD 5KM R50 R50
TEMPORARY LICENCE FEE (ONLY FOR 10KM): R40
RIDE: (Sunday 24 March) The Good, the Bad and the Ugly:-
EVENT ONLINE LATE ENTRY
08:00 - 20KM E-BIKE (The Ugly) R120 R150
08:10 - 20KM (The Ugly) R120 R150
08:20 - 14KM (The Bad) R90 R100
10:30 - 6KM (The Good) R50 R60 (kiddies)
10:30 - 3KM (The Good) R30 R40 (kiddies)
Contact Details
Where
Venue:
Lake Farm Centre
Event Address:
Lakeside Rd
Seaview
Port Elizabeth
MAP
Latitude : -33° 59' 5.76" S | Longitude : 25° 25' 31.53" E