Lelane Souverijn - This Is My House
10 August 2019 - 10 August 2019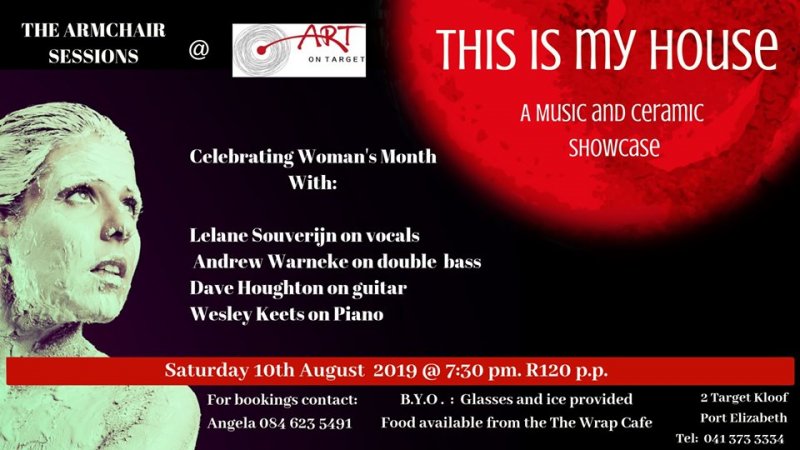 Armchair Sessions @ Art On Target presents This is My House, a zen-inspired evening.... .
Featuring talented songstress and ceramic artist, Lelane Souverijn. Lelane returns to the stage to share her journey of travel, marriage and motherhood with us. This show encompasses all genres of music: from blues, jazz and soil to folk… performed in Lelane's unique style. This show is special in that Lelane will be exhibiting some of her exceptional ceramic work.

She is joined on stage by a group of fantastic musicians : David Houghton on guitar, Andrew Warneke on bass and Wesley Keets on piano.

Bookings: whatsapp Angela at 0846235491 for bookings.
The venue is unlicensed, so please do bring your own beverages. We will be providing glasses and ice. BA will be running her kitchen, providing lovely wraps and tasty treats.

Plenty of safe parking available.

Opening Times
19h00
Costs
R120 per person - Cash at the door.
Contact Details
Where
Venue:
ART on Target
Event Address:
2 Target Kloof
Port Elizabeth
MAP
Latitude : -33° 58' 2.15" S | Longitude : 25° 35' 50.12" E