LUISTER!FM Verjaardag Fees
22 September 2017 - 24 September 2017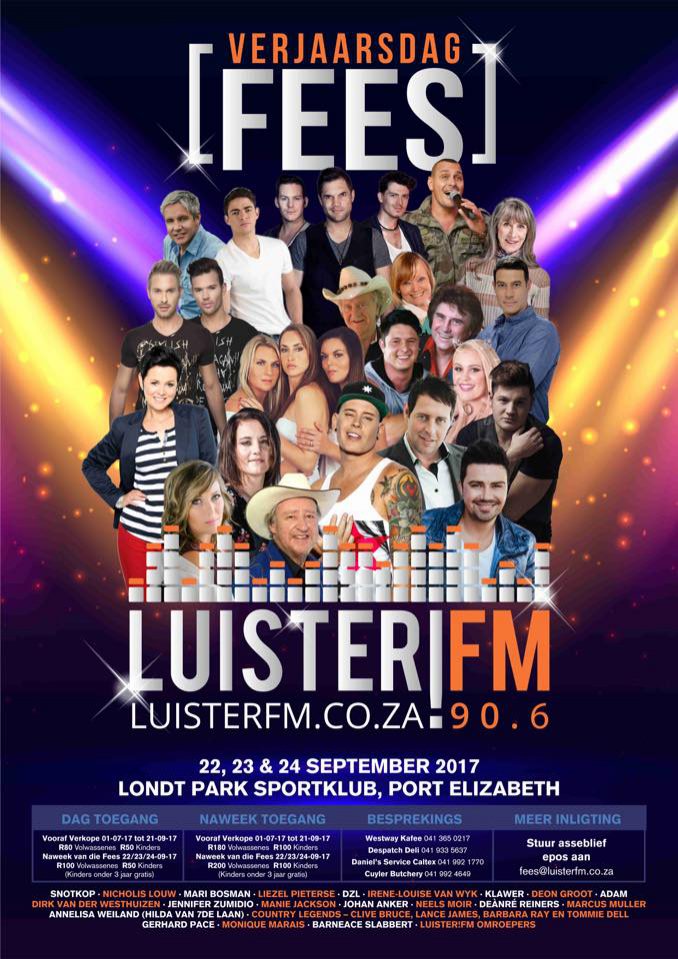 LUISTER!FM VERJAARDAG FEES
3 DAE VAN FEES IN AFRIKAANS!
22 TOT 24 SEPTEMBER BY LONDT PARK SPORTKLUB, FERNGLEN ( RALSTON WEG)
KAARTJIES BESKIKBAAR BY WESTWAY KAFEE
R80 PER DAG OF R180 NAWEEK KAARTJIES
041-3650217
GROOT KUNSTENAARS GAAN BY DIE FEES OPTREE EN BAIE ANDER VERMAAK!
KOOP JOU KAARTJIE VANDAG NOG!
LUISTER FM Birthday Festival with big name artists.
This 3 day Afrikaans festival will take place 22-24 September 2017 at the Londt Park Sports Club.
Bookings can be made by contacting Westway Cafe on 041 365 0217.
From R80 per day; R180 per weekend pass.
Opening Times
Starts at 15h00 on the Friday and ends at 15h00 on the Sunday
Costs
From R80 per day; R180 per weekend pass
Contact Details
Where
Venue:
Londt Park Sports Club
Event Address:
Ralston Road,
Fernglen,
Port Elizabeth
MAP
Latitude : -33° 56' 52.68" S | Longitude : 25° 32' 17.84" E