MES PE 10th Birthday Vintage Tea
25 May 2019 - 25 May 2019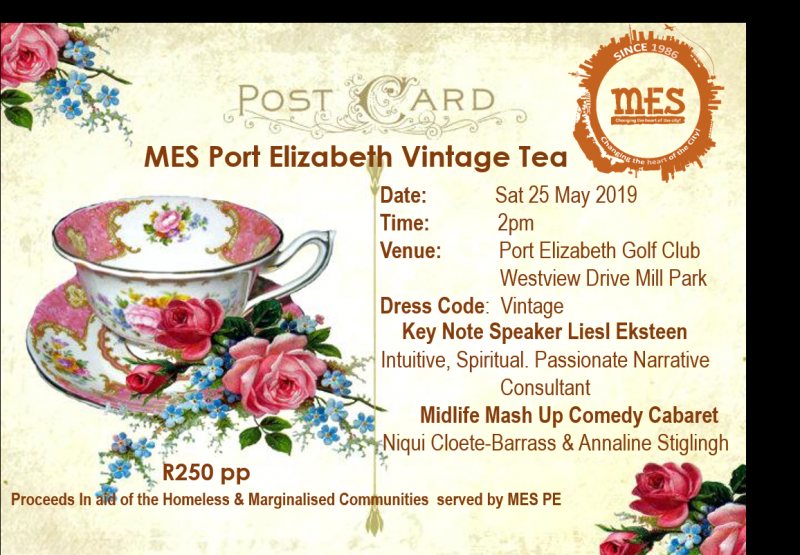 We thought that it would be appropriate to showcase the work done by MES over the last 10 years in an atmosphere of togetherness and hilarity over a cup of tea. To mix business with pleasure as it were. There's something for everyone:
Listen to keynote speaker Liesl Eksteen explore the seasons of our journey as she believes that God designed each season of our lives for a reason. She poses the question: Are you a tourist in your own season… are you sightseeing from a distance… or are you embracing the full meaning of it?
See Niqui Cloete-Barrass and Annaline Stiglingh who will have you rolling in the aisles with their award winning frank and frightfully funny approach to dealing with the sweat soaked reality that is the middle years. You simply gotta see this!
Watch as multi discipline dance teacher Leanka Laubscher and students demonstrate how dance heals mind, heart and soul. How this form of creative expression releases tension, evokes happiness and provides poise and grace.
Tickets at R250 per person includes, refreshments, vouchers, goodies on the tables and super prizes for best and most original vintage outfit as well as lucky draws.
There will be a small ticket auction and a raffle. Weekends stays and lunches up for grabs. T&Cs apply.
Opening Times
13h30
Costs
R250.00
Contact Details
Where
Venue:
PE Golf Club
Event Address:
Westview Drice
Mill Park
MAP
Latitude : -33° 57' 25.95" S | Longitude : 25° 35' 16.14" E