Millennials Kulture
30 September 2017 - 30 September 2017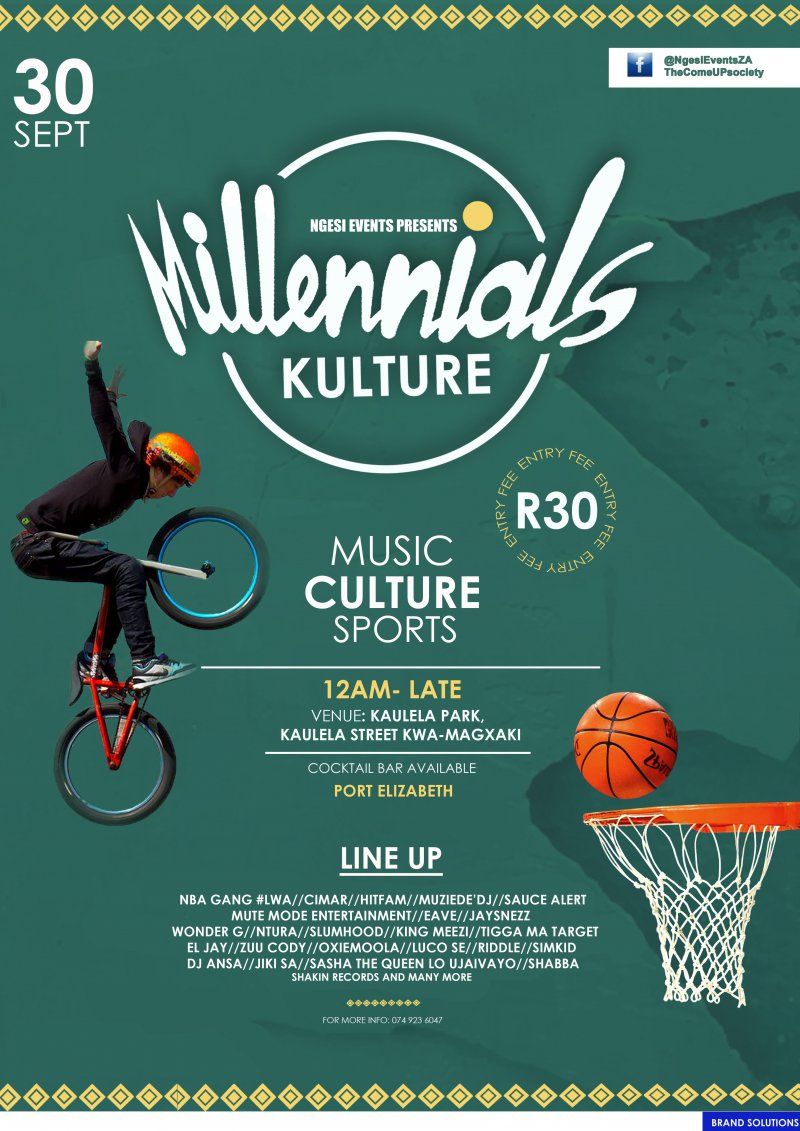 Name: Millenial Kulture
Date: Sat, 30 Sept 2017
Venue: Kaulela Park
Time : 12am till late
Entrance: Tickets available R30 from
15 Aug 2017 (VIP Limited tickets available),
Cocktail bar Available

Event Description
Millenials Kulture = is a Music, sports and culture event created to accomodate local basketball, BMX, Skating athletes, artists and entertain smart trendy youth and working class who hail from urban areas of port elizabeth.

Developed by locals for the locals and those who love and live the pop culture, the fashion conscious people. Millenials Kulture boasts local talents as the main provider of entertainment.

Millenials Kulture is a philosophy - a way of life.
Its about coming together with friends, creating memories & enjoying good times.
This event promises to be even bigger than our previous events, with a great line-up and production.

The venue
We favour venues and locations that are local to the audience, accessible via public transport, and welcoming to guests arriving by
bicycle or on foot. We aim to provide guests and suppliers with information and encourage them to travel in a sustainable manner to our events, including public transport and walking directions. We favour the use of existing event venues where ever possible, when organising outdoor events we aim to to uphold the highest standard of land use, carefully assessing minimising risks of contamination and ensure a good standard of clean up after the event.
Opening Times
12am
Costs
R30 per person
Contact Details
Where
| | |
| --- | --- |
| Venue: | Kaulela Park |
| Event Address: | Kaulela Street, Kwa-Magxaki, Port Elizabeth |
MAP
Latitude : -33° 50' 26.77" S | Longitude : 25° 32' 13.65" E