NSF 100 Motorcycle Training Day
12 October 2014 - 12 October 2014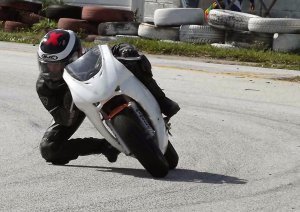 If your child is between the ages of 7 and 14, why not introduce them to the exhilarating world of circuit motorcycle racing? The SA Motorcycle Racing Academy (SAMRA) has the full backing and support of HONDA SA and are affiliated to Motorsport SA as their Junior Development partners. We are geared to produce future champions from youngsters who have had no previous riding experience whatsoever.
The Port Elizabeth division already has a few promising riders, including Dominic Doyle, who competed in the NSF 100 CUP in Cape Town on the weekend of 19 September, and managed to finish second in all three heats after some tough racing . He qualified 4th but it did not take him long to get up to second place in heat one . Heat two was a little more nerve racking when he got away last after missing a gear on the start and had to chase hard to get up to fourth spot where the race was red flagged . After a restart he did well to stay close be behind 1ST place finisher Branden Staffen and pull away from the rest. In Heat three he once again had a fight on his hands with third place finisher Slade Van Niekerk but managed to hold on and finish second again.
PE Classic Bike Racing, in association with SAMRA is pleased to announce a training day on Sunday 12 October at the Algoa Kart Club, for novice and experienced riders. South African Superbike Champion Arushen Moodley, will coach the experienced riders on the track and give them a talk on improving their technique. National Champ Robbie Breakspear and experienced off-road rider and racer, Ross Guscott, will coach the novices and train them in the changing of gears and basic track skills.
The cost of the event will include a refundable damage deposit of R150.00 plus R100.00 per riding session. The R100.00 includes all rider training plus a ½ hour session on the track with leathers and kit. Entrance is free for spectators, so bring the whole family for a fun day! There will also be kart racing.
Refreshments will be on sale.
To register your child for this event, please email peclassicbikeracing@gmail.com
Contact Details
Where
| | |
| --- | --- |
| Venue: | Algoa Kart Club |
| Event Address: | Schoenmakerskop, Port Elizabeth |