Odeion String Quartet
18 November 2021 - 18 November 2021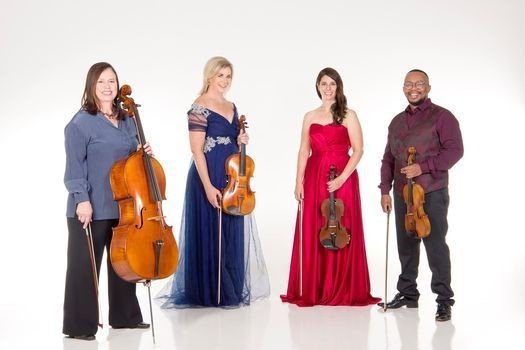 It is with great joy that I can announce the Odeion String Quartet's concert for the PE Music Society on Thursday, 18 November 2021, in the Dutch Reformed Church Summerstrand, 77 Louis Botha Crescent
The University of the Free State (UFS) string quartet tradition goes back to the Free State String Quartet (led by Jack de Wet), which pioneered string and orchestral instrument playing in the Free State between 1960 and 1972. The Odeion String Quartet (OSQ) was established at the UFS in 1991 as a permanent, full-time resident string quartet and is the only resident string quartet at a South African university. The OSQ symbolises the university's commitment to the performing arts, and it plays an important strategic role in the development of symphony orchestra music and in classical music training in all communities in the Free State.
The Quartet currently consists of Samson Diamond (first violinist), Sharon de Kock (second violinist), Jeanne-Louise Moolman (violist) and Anmari van der Westhuizen (cellist).
The quartet performs regularly in all the major cities in South Africa and at major national arts festivals. These performances have received several awards. The quartet was honoured to receive two KykNET Fiësta nominations (2015, 2016) and a "Woordtrofee" nomination (2020) for performances at arts festivals. During 2019, the quartet received the prestigious Huberte Rupert Prize from the South African Academy for Science and Arts for the quartet's contribution towards arts and culture in South Africa
The OSQ has undertaken several successful international tours to Austria, Belgium, Germany, Switzerland and the UK. In 2016, the quartet collaborated with Austrian contemporary composers, Klaus Ager, Achim Bornhöft and Hannes Heher, and performed Austrian and South African works in Salzburg and Vienna. The quartet reflects a keen interest in contemporary South African works, and regularly assists young South African composers performing their work for the first time. The quartet has twice assisted the Dar Choral Society's symphony orchestra in Dar es Salaam, Tanzania, by leading the orchestra's string sections.
The quartet members are devoted to teaching and play an important role as teachers and mentors at the Odeion School of Music (OSM) at the UFS, which attracts students from all over the country. They also coach numerous chamber music ensembles and present workshops on the basic principles of string playing. The Quartet is thus an essential part of the UFS collaboration with the FSSO, the FSYO and the OSM.
For their concert in Gqeberha, they chose to play the following programme:
String Quartet in F major, Op.18 No.1 Ludwig van Beethoven (1770-1827)
String Quartet in A Minor Op.13 Felix Mendelssohn (1809 – 1847)
Three pieces by Astor Piazzolla:
Oblivion arr by P. Treszczotka, Libertango arr. by Josiah Duhlstine, and
La Muerte del Angel.
Dear Friends, may I suggest that you bring a little cushion with to the concert as the church pews can become a bit uncomfortable after a while!
No pre-bookings unfortunately as tickets will be sold at the door!
Coffee will be sold at R10.00 per cup!
We hope to see all of you at the concert!!
Opening Times
17h30
Costs
Ticket prices at the door for Non-members are: ADULTS - R80.00 // PENSIONERS - R60.00 // STUDENTS -
Contact Details
Where
| | |
| --- | --- |
| Venue: | Dutch Reformed Church |
| Event Address: | 77 Louis Botha Crescent, Summerstrand |