Oktoberfest 2014
22 October 2014 - 26 October 2014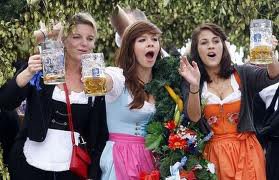 OCTOBERFEST 2014
South Africa second biggest Beer Fest
OKTOBERFEST CORPORATE EVENING---23rd OCTOBER
OKTOBERFEST 2014 WILL BE THE 6th YEAR THAT WE WILL BE HAVING A CORPORATE EVENING. IT IS A GREAT NIGHT FOR COMPANIES TO TREAT YOUR VIP CUSTOMERS OR YOUR TOP PERFORMING STAFF TO THE FIRST PERFORMANCE OF OUR OOMPAH BAND WHO ARE SPECIALLY FLOWN OVER FROM GERMANY FOR THIS EVENT.
YOU CAN BOOK A TABLE FOR 10 PEOPLE FOR R3000. THIS INCLUDES YOUR ENTRANCE FEE , OKTOBERFEST HAT, A SCHNAPPS, A 5OOML GLASS MUG WITH OKTOBERFEST LOGO SANDBLASTED ON IT AND ONE 500ML DRAUGHT BEER AND A MEAL PER GUEST(EISBEIN OR CHICKEN CORDON BLEU). THE EVENING STARTS AT 7PM AND LASTS UNTIL APPROXIMATELY 12AM.


FRIDAY 24TH AND SATURDAY 25TH OCTOBER
THESE 2 NIGHTS ARE OPEN NIGHTS AND BOOKINGS MAY NOT BE MADE. TICKETS MAY BE PRE-PURCHASED AT THE GERMAN CLUB AND ARE R80 PER NIGHT OR R120 FOR BOTH NIGHTS. GATES OPEN AT 7PM ON FRIDAY NIGHT AND 6PM ON SATURDAY NIGHT. CLOSING TIMES ARE 1AM ON FRIDAY AND 12AM ON SATURDAY. THERE ARE 3 DRAUGHT BARS IN THE TENT AS WELL AS 2 HARD TACK BARS AND THE OOMPAH BAND PLAYS OFTEN DURING THE EVENING. THERE ARE FOOD STALLS IN THE COURTYARD WITH THE FAMOUS LUDWIGSBURGER, CHEESEGRILLERS, PANCAKES AND OTHER EATS ON SALE. THERE IS ALSO A DISCO IN THE HALL FOR THE YOUNGER CROWD.
THIS YEAR FOR THE THIRD TIME WE ARE HAVING A MISS OKTOBERFEST COMPETITION AND THERE ARE GREAT CASH AND JEWELLERY PRIZES TO BE WON AS WELL AS AN EXTREME MODELS GROOMING AND MODELLING VOUCHER. ENTRY FORMS ARE AVAILABLE AT VARIOUS OUTLETS AND THE GERMAN CLUB.
FINALS WILL BE AT 6-15PM ON SATURDAY 25TH OCTOBER.
SUNDAY 26TH OCTOBER---FRÜSCHOPPEN
SUNDAY IS FAMILY DAY AND BOOKINGS ARE ESSENTIAL AS WE ONLY CATER FOR UP TO 1000 PEOPLE. ENTRANCE FEE IS R80 FOR NON-MEMBERS. THE OOMPAH BAND PERFORMS FROM 12PM AND USUALLY UNTIL 4PM. LUNCH IS USUALLY SERVED BETWEEN 12 AND 2PM AND THERE IS A CHOICE OF 4 DIFFERENT MEALS. AS ALWAYS DRAUGHT BEER AND SCHNAPPS IS AVAILABLE.
Contact Details
Where
Venue:
GERMAN CLUB LORRAINE
Event Address:
5 Lorraine street
Lorraine P.E.