PE Music Society - Anmari vd Westhuizen (cello) and JF Viljoen (piano)
25 May 2022 - 25 May 2022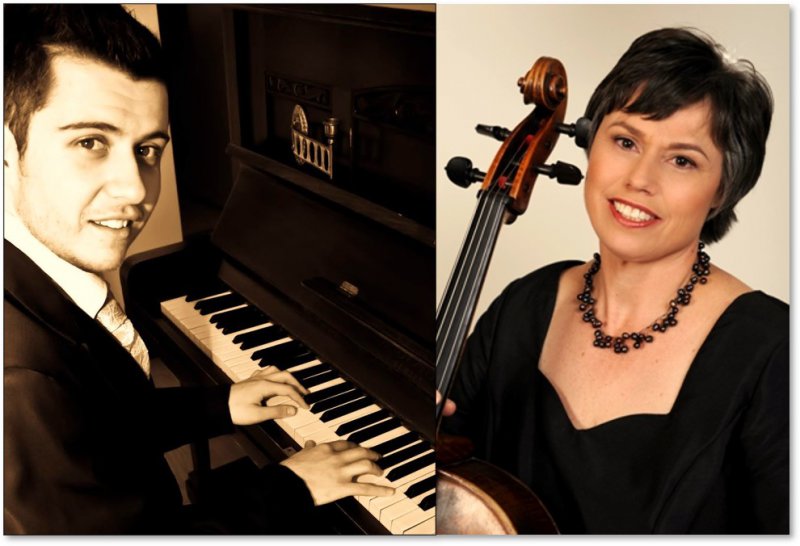 Anmari van der Westhuizen was appointed adjunct professor in cello at the UFS and cellist of the Odeion String Quartet in 2008 and as head of the Odeion String Quartet Department since January 2013.
She graduated from the University of Stellenbosch (BMus cum laude; BMus (Hons) cum laude); full academic and cultural honorary colours), from the Mozarteum, Salzburg (Grosses Diplom cum laude), and from Hochschule für Musik, Cologne, under tutelage of Prof Maria Kliegel (Konzertexamendiplom).

She holds Performers and Teaching Licentiates from UNISA (cum laude). In 2013 Anmari received her PhD in Music Performance from the University of Pretoria and was awarded full academic honorary colours for her thesis "Siolo Violoncello music: a selective investigation into works composed between 1980 and 2010 and the compilation of a catalogue".
Anmari is the winner of the ATKV Forte Competition, the SABC Competition, the Oude Meester Competition and the University of Natal 75th Anniversary Prize. She was an invitee with current concert master of the London Philharmonic Orchestra, Pieter Schoeman, to the International Youth Music Festival held at Interlochen, U.S.A.

She received extensive chamber music training with specific emphasis on string quartet playing by members of the world's best string quartets, namely the Alban Berg String Quartet, the Amadeus String Quartet, the Borodin String Quartet, the Brodsky String Quartet and the Hagen String Quartet, and studied under Hatto Beyerle, Györgi Kurtág, and Professor Nikolaus Harnoncourt (Historic Performance Practice).
During her stay in Europe she appeared in solo and chamber music performances, inter alia with the Viennese ensembles, Music-on-Line and the Wiener Streichorchester, and she was a permanent member of the Koehne String Quartet, Wien. She performed as chamber musician in Australia, Austria, Belgium, Faroe Islands, Germany, Hungary, Italy, Japan, Poland, South Africa, Spain, Switzerland, Turkey, United Kingdom, U.S.A., Zambia and Zimbabwe.

Anmari made several CD recordings and her solo CD has two works with a first recording (Roelof Temmingh and Egon Wellesz) which was well received by the Austrian Magazine for New Music. Anmari performed several first performances (world premieres) of cello works: In 2007 the Austrian Composers Union under chairmanship of Professor Ager (previous Director of the Mozarteum) invited her to give a solo recital of contemporary solo cello works in Vienna, Austria, which included a first performance of Roelof Temmingh's "Variations", which Temmingh dedicated to her.

She also gave the first performances of solo cello works by the Austrian composers, Wolfgang Nenning and Hannes Heher, and of works dedicated to her by Hubert Du Plessis and Hendrik Hofmeyr. Anmari has more than thirty years experience as principal cellist of orchestras and string ensembles. She was the conductor/ director of the UCT String Ensemble for ten years and is currently conductor of the Odeion Sinfonia and co-conductor of the FSYO.

She is a founding member of the UCT Trio, the Collage Ensemble and I Grandi Violoncellisti.
J.F. Viljoen started playing the piano and the violin at the ages of 8 & 12 respectively. In 2008 J.F. started a BMus degree at Nelson Mandela Metropolitan University, studying piano with Dr Erika Bothma and violin with Mr Pierre Malan. He graduated with cum laude in 2012. In 2015, he completed his MMus degree in Piano Performance, studying with Dr Erika Bothma.
He won the Charles Bryars Scholarship in 2009 and placed second in 2010 and 2011. In 2011 he was chosen as a soloist for the Eastern Cape Philharmonic's Youth Concerto festival, working with Dr Peter-Louis van Dijk as conductor.
J.F. was one of the official accompanists at the Grahamstown National Music Competition in 2010, 2011 and again in 2017 and 2018. He served as an accompanist for the NMMU music department from 2011 until 2015 and for the Rhodes music department since 2016. He has been a member of the Eastern Cape Philharmonic Orchestra since 2009.
J.F. started his teaching career at Alexander Road High School as a strings and piano teacher as well as conducting the Alexander Road High School Symphony Orchestra. He currently works at Kingswood College, teaching piano, strings and subject music.
At present, J.F is working on his DMus studying with Prof. Catherine Foxcroft at Rhodes University. He resides in Grahamstown with his wife Chrisna, and children Joshua and Nina.
Opening Times
19h00
Costs
Ticket prices at the door for Non-members will be: ADULTS R95.00 / PENSIONERS R80.00 / STUDENTS R4
Contact Details
Where
| | |
| --- | --- |
| Venue: | NMU South Campus |
| Event Address: | South Campus Auditorium |
MAP
Latitude : -34° 0' 33.45" S | Longitude : 25° 40' 10.01" E