PE Music Society Concert - Jan Hugo
10 September 2019 - 10 September 2019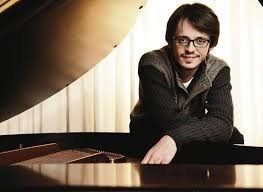 Born in Bloemfontein, South Africa, in 1991, Jan started his music tuition at the age of 7 with Claudine van Breda in Pretoria. He distinguished himself in local art festivals, eisteddfods and passed all examinations for practical piano and theory with distinction. At the age of 11, he participated in the International Competition for Pianists "Virtuosi per Musica" in Usti nad Labem in the Czech Republic and at 12 years, he won the Musicon Senior Primary Piano Competition in Bloemfontein and the Sanlam Music Competition in Cape Town. In 2006, 15 years old, he won the category "Soloists 18 years old" in the International Piano Competition "Carlo Soliva" in Casale Monferrato, Italy. Just 13 years old, Jan was invited to further his studies in Italy and became a student of Francesco Cipolletta at the Istituto Superiore di Studi Musicali "Vecchi-Tonelli" in Modena, Italy where he passed all his exams cum laude.
Since then, Jan had a career as a concert pianist, and got married to a singer a few years ago. As he is preparing for an international Liszt competition in October, he will play an exclusively Liszt programme for us.
L. v. Beethoven/F. Liszt - from Geistliche Lieder - Die Ehre Gottes aus der Natur
- Busslied
F. Liszt - Vexilla Regis Prodeunt
H. Berlioz/F. Liszt - from Symphonie Fantastique
- Un Bal
- Marche au Supplice
F. Liszt - Les Jeux d'eaux a la Villa d'Este
- Sursum Corda
F. Schubert/F. Liszt - "Sei mir gegruesst"
- "Gretchen am Spinnrade"
- "Auf dem Wasser zu Singen"
- "Erlkonig"
Please support the Music Society and attend this concert.
Opening Times
19h00
Costs
ADULTS: R95.00 / PENSIONERS: R80.00 / STUDENTS: R40.00 / SCHOLARS: R35.00
Contact Details
Where
| | |
| --- | --- |
| Venue: | NMU South Campus Auditorium |
| Event Address: | Summerstrand |
MAP
Latitude : -34° 0' 33.95" S | Longitude : 25° 40' 9.75" E