Rapunzel - A Tangled Mess : The Pantomime
27 November 2019 - 14 December 2019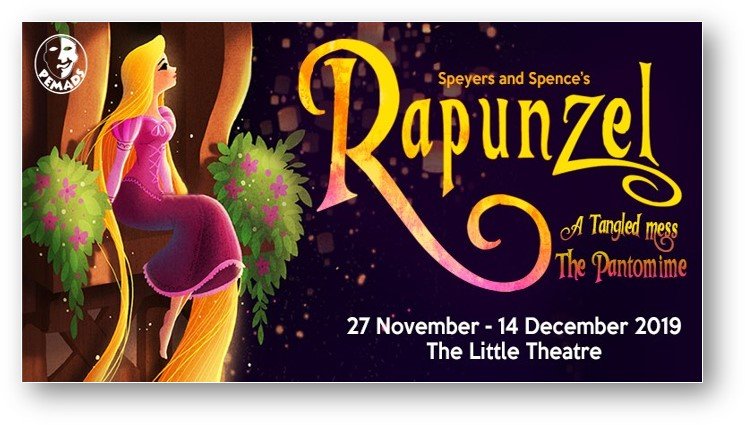 PEMADS presents their annual family pantomime for 2019 - Rapunzel - A Tangled Mess. Written by PE theatre stalwarts, Leslie Speyers and Dawn Spence (or the aptly named duo Speyers & Spence), this pantomime is proudly home-grown and bursting at the seams with fun, music, dance, laughter and a whole lot of pantomime antics, for both young and old.
It`s the age old story of Rapunzel, the first born daughter to the king and Queen, in exchange for eating the witch Gothel`s magic plant. This tale unfolds into a delightful romp centered around the palace cook and her sons, and abetted by two silly girls madly in love with the oldest son going in search of the kidnapped Rapunzel. They wander around the forest for 16 long years in search of her and meets up with the fairy, Dewdrop, who resolves to find a way through the magic circle and chaos pursues.
The show is directed by Leslie Speyers, with music maestro Richard Campbell as Musical Director and multi-talented Sian-Beth Hitchner as the Choreographer. And features a fresh cast of young-professionals-in-training and some of PE`s favourite stage veterans - an exciting and assured mix of top-class talent!
The show will run every night (except Mondays) from 27 November 2019 to 14 December 2019 at the Little Theatre, 7 Athol Fugard Terrace, with afternoon shows on 30 November; 01, 07 & 14 December.
Megan Calder, Sandi Osborne, Rob Andrews, David Jordaan, Matthew Hamilton, Daniel Hamilton, Kerry-Lee Jeffrey, Charlize Visser, Abigail Nel, Abi Ranwell, Sian-Beth Hitchner, Nizaan Henning
Costs
R100
Contact Details
Where
| | |
| --- | --- |
| Venue: | PEMADS |
| Event Address: | 7 Athol Fugard Terrace, Port Elizabeth Central |
MAP
Latitude : -33° 57' 51.31" S | Longitude : 25° 37' 11.95" E