Siyadala - We Create National Quilt Festival
03 July 2017 - 08 July 2017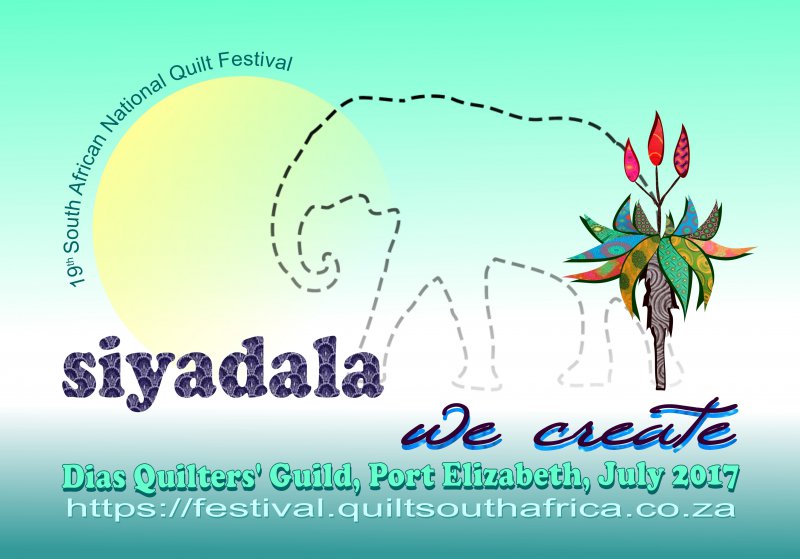 The Dias Quilters' Guild of Port Elizabeth will host Siyadala – We Create National Quilt Festival from 3 – 8 July, 2017.
Eastern Cape elements are featured in our logo and will be very evident at the Festival.
This is an eagerly awaited event on the South African quilting calendar which attracts delegates from all over South Africa and abroad. The festival is open to the public.
The highlight is of course, the exhibition of stunning hand and machine made competition quilts, from traditional to art quilts, created by the top quilters and textile artists in South Africa. This is a not to be missed exhibition.
A wide variety of quilt and textile related workshops will be running all week, as well as lunch hour lectures. Many quilts shops from around South Africa and major sewing machine companies will be trading at the festival thus offering a great shopping experience.
We are so thrilled to have two men representing the world renowned Tentmakers of Cairo, Egypt, on our teaching panel, a first for the South African quilt world! They will teach a time-honoured tradition passed from father to son over generations. Their magnificent applique quilts will be on display in their own exhibition. Jenny Bowker, a high profile Australian quilt teacher who noticed their work and introduced them to the world-wide quilt shows will be teaching two workshops and present a lecture on the Tentmakers.
The Keiskamma Project and 67 Blankets for Mandela will both feature at our festival.
For more information about workshops and lectures, please visit the Siyadala website.
Opening Times
Monday, 3 July - Friday, 7 July: 09.00 - 18.00; Saturday, 8 July: 09.00 - 15.00
Costs
Day Visitors: Adults: R50, Scholars: R20, Children under 12 free.
Contact Details
Where
| | |
| --- | --- |
| Venue: | Collegiate Girls' High School |
| Event Address: | Kestell Street, Parsons Hill, Port Elizabeth |
MAP
Latitude : -33° 57' 2.26" S | Longitude : 25° 35' 21.29" E