SPLASH FESTIVAL
18 April 2014 - 20 April 2014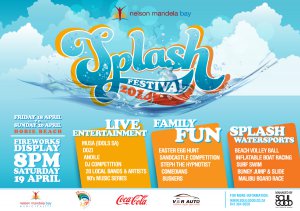 Since its inception 24 years ago, the Splash Festival has grown from strength to strength. This year will be no different, as the organisers have promised that they will take it to another level. More interesting and exciting additions to the three-day Splash Festival programme have been included (admittedly, last year, late planning and poor weather presented challenges that negatively contributed to its success.
Through strict political oversight by the Sport, Recreation and Culture Standing Committee, under the leadership of Portfolio Chairperson Cllr Nomamerika Soul, this year's Splash Festival promises to maintain the highest professional standards in events management. This year, the organisers have had enough time to plan, learning from previous challenges. Notably, the contract for the event was awarded early this year.
Speaking at the launch, the Executive Mayor appealed to the members of the media and the community of Nelson Mandela Bay to support and embrace the event as an annual flagship event in which the city prides itself. "An important feature of this year's Festival is very early planning. I am satisfied that we are well on track to an enormously successful event," said Executive Mayor Fihla.
During the Splash Festival, thousands of local, national and international visitors flock to Hobie Beach to enjoy the festivities. The Executive Mayor said that the Municipality intends to leverage on this unique Festival to further consolidate the City's growing reputation as a preferred holiday and events destination. "Our intent, of course, is a very clear one: local economic development. The thousands of visitors to the Splash Festival represent a healthy and very welcome injection into local business, particularly the hospitality industry," the Executive Mayor said.
The three-day Festival Programme will include live music, family and watersport entertainment. Beach Volley Ball, Inflatable Boat Racing, and Tetra Brazil Beach Soccer are some of the watersport entertainment lined up. About 20 local musicians will feature in the line-up, while Easter egg hunts, sand castle competitions and comedians will keep families and children entertained. Another addition to the Programme is the 90s music series that will be held at King's Beach. Artists like Dj Christos, Mdu Maselela and popular television personality and Metro FM DJ Sbu will entertain the crowds.
The safety and security of visitors to the Festival have been prioritised. Close working relations have been established between the Nelson Mandela Bay Municipality's Safety and Security Directorate and the South African Police Services. Increased patrols, a close watch on alcohol consumption and drinking and driving are some of the issues that will be prioritised, as well as the safety of children.
Contact Details
Where
Venue:
Hobie Beach
Event Address:
Hobie Beach
Summerstrand
Port Elizabeth