Summerwood Outdoor Cinema Experience
04 October 2019 - 04 October 2019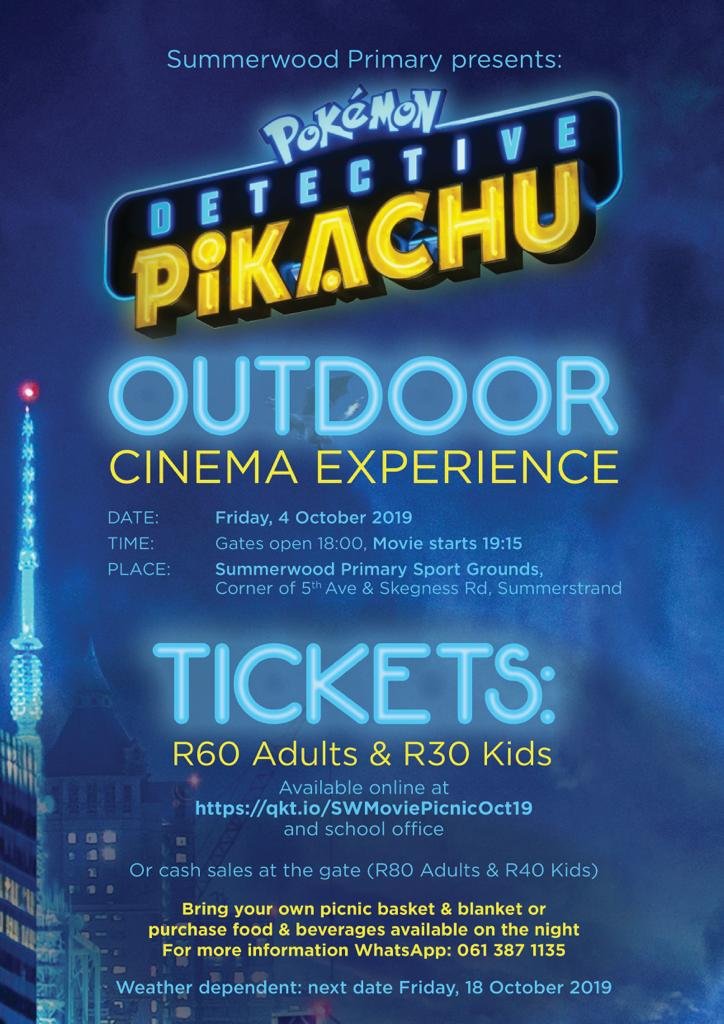 Spring is in the AIR! Let's celebrate a new season in the outdoors with family, friends, colleagues and neighbours. Pop in at this exciting open air, movie under the stars, event with us at Summerwood Primary School. Bring with your blankets, duvets, cushions, sleeping bags, camping chairs and get comfy.

Affordable, scrumptious movie meals and picnic snacks will be on sale at the event. So take the night off from cooking and cleaning. The following meals and snacks will be on the menu for this event:

*Boerie Rolls*
*Burgers* -Chicken & Beef-
*Chicken fries- pops & nuggets
*Hot Chips*
*Slush*
*Soft Drinks*
*Soda Floats*
*Popcorn*
*Soft Serve*
*Milkshakes*
*Hot Beverages*

Tickets
Available online: Adults - R 60, Kids - R 30.
At the gate: Adults - R 80, Kids - R 40.

For more info WhatsApp: 061 387 1135

For those who aren't familiar with the Pop-up Cinema EC fine print yet. Here we go!
* Pop-up Cinema EC does not cancel events, we postpone to the next available date in accordance with the venue management and event partners.We will only postpone an event due to extremely poor weather conditions, which are wind gusts of 30 km/hr and/or rain on the day of event.
* Changes will be communicated to our ticket holders via sms and announced on our preferred social media platforms, at least 8 hours prior to the event time.
* Redemption of online tickets are securely monitored. We adhere to a STRICTLY NON-REFUNDABLE policy unless stipulated otherwise by Pop-up CInema EC management.
ONLY original, barcoded print-outs and/or digital tickets with QR or Barcodes, are accepted at the gates.
* Duration of Event: Yes, we make MAGIC, yet. We are not equipped nor trained to control the exact time of sunset. The stipulated times are only guidelines and might slightly differ on the evening. We are known for our punctuality and our ability to accommodate our guests according to their requirements and time frames.
* Drive-In: Please ensure that you have a working FM radio in your vehicle as the audio is transmitted via an FM frequency, which is announced prior to the start of the on-screen entertainment.
* Parents: Please assist us in keeping outdoor cinema experiences safe and family friendly by preventing your lovely kids from entering the area around our screen. A good guideline is to show them the anchoring ropes. They are too close to the screen and equipment if the ropes are above their heads. THANK YOU
* NO guests have access to 'back of house' (behind the screen). Unless stipulated alternatively by Crew Management.
* SAFETY FIRST. We are not liable for any injuries or damage on site. We practise and apply strict safety protocol and have zero tolerance towards trespassing behaviour.
* We encourage guests to support our food vendors as they cater and prepare quality, affordable and generous meals for a magical movie experience.

This is not a cashless event YET! Card facilities are available.

PLEASE feel free to post, like and share all your memories and pictures on our social media platforms. We are not stingy when it comes to complimentary tickets and/or mention kudos where it is due.
Opening Times
18:00
Costs
Adults - R 60, Kids - R 30
Contact Details
Where
Venue:
Laerskool Summerwood Primary School
Event Address:
C/o 2nd Ave & Skegness Rd
Summerstrand
Port Elizabeth
6001
MAP
Latitude : -33° 59' 5.61" S | Longitude : 25° 39' 40.69" E