The Eastern Cape Fashion & Design Council - Creative Market
13 September 2019 - 13 September 2019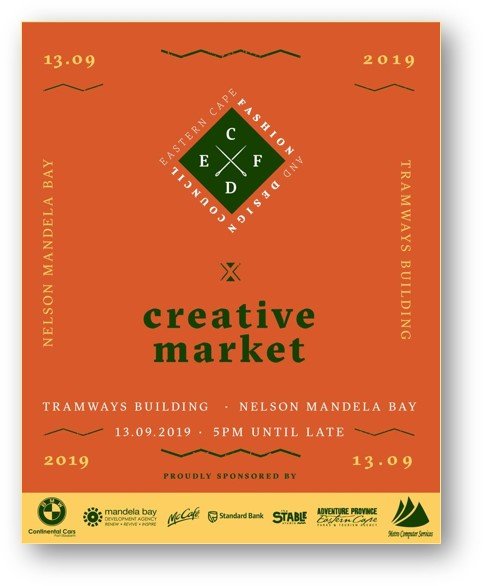 ECFDC is hosting their first ever annual event, creating platforms for designers to grow their businesses.
The Eastern Cape Fashion & Design Council is hosting their first ever event during Heritage month on the 13th September 2019, MBDA Tramways Building.
The event is to empower the youth of the Eastern Cape, to honor their 3 mentees who have been on a mentorship program with their Chairman, Laduma Ngxokolo, and to showcase the local talent of the fashion, design and craft industry.
"The ECFDC Creative Market is there to show case what the Eastern Cape is capable of."
About the Eastern Cape Fashion & Design Council: (ECFDC) The ECFDC is a non-profit organization founded in 2018 by Laduma Ngxokolo and Nwabisa Bunde. The organization aims to help SMME's of the fashion, design and craft industry through various business development initiatives, partnership and advisory support.
The ECFDC Creative Market is there to assist the designers to market and sell their products, to encourage the youth and give knowledge to the possibilities in the fashion, design and craft industries of the Eastern Cape.
About the Creative Market: The 3 mentees, you may be familiar with some of them, Kholiswa Seti of Kolly Seti designs, was apart of Nelson Mandela Fashion Week a few years back. Known for her stylish inclusive fashion designs. Athenkosi Ngudlwa of A T H E N K O S I, also a designer, has created bespoke designs for some well knows artist, one being singer Berita. Hlobo Mbube of Mbube Creations designs and creates hand crafted, bespoke leather shoes, bags, wallets and belts. These creatives are to showcase their latest collections in a fashion exhibition at the event.
There will be a creative market where locals and the rest of the ECFDC members will sell their products and services. Some of the council members are well known emerging creatives from the Design Indaba and Decorex competition. Gugu Peteni of GUGU, Thandazani Nofingxani of Chap Studios, Lookout Sibanda of Lookout Ceramics to name a few.
A business and youth empowering panel discussion about funding opportunities, and how to become compliant in order to become a benefactor, design processes, branding and marketing strategy, business development, etc. Credible food and drink vendors will also be available.
All of this would not have been possible if it were not for our sponsors, Mandela Bay Development Agency (MBDA), The Stable Studio, Standard Bank, Eastern Cape Parks & Tourism Agency (ECPTA), BMW, Mc Café and Metro Computer Services.
The ECFDC is here to make a positive change
Opening Times
16h30
Costs
R60.00
Contact Details
Where
| | |
| --- | --- |
| Venue: | Tramways Building |
| Event Address: | 16 Lower Valley Rd, South End, Port Elizabeth, 6001 |
MAP
Latitude : -33° 57' 54.21" S | Longitude : 25° 37' 32.79" E