The PPC Imaginarium Awards Travelling Exhibition
22 August 2018 - 12 September 2018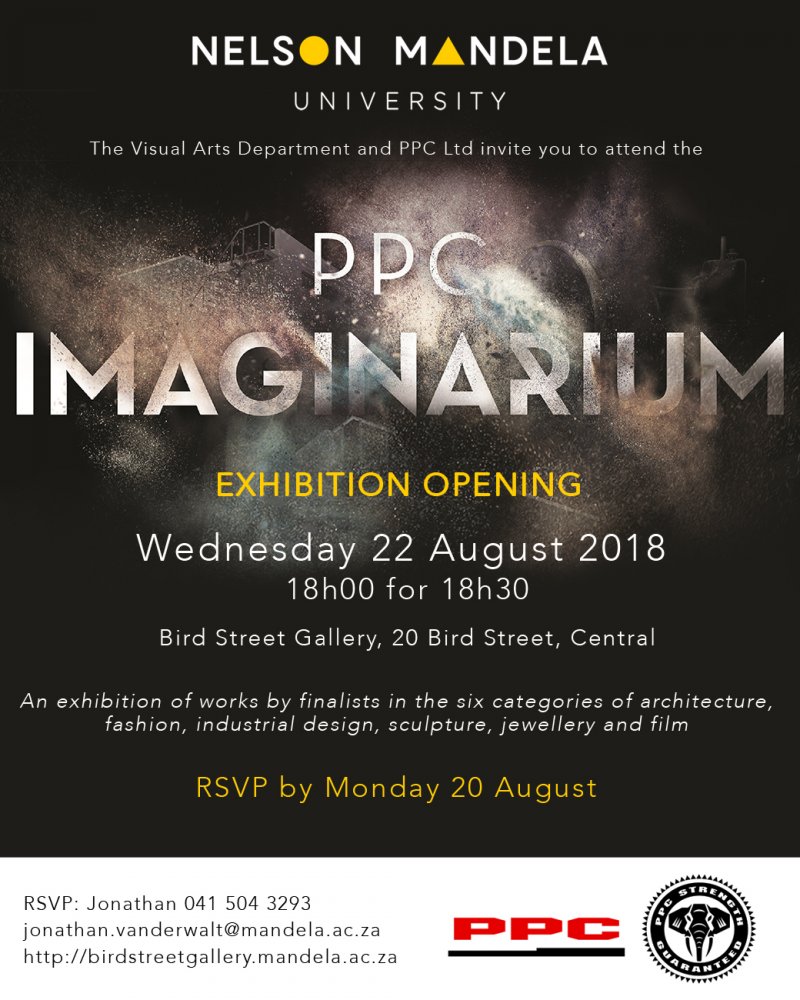 The PPC Imaginarium Awards will conclude its 2018 tour with a visit to Nelson Mandela University (NMU) in Port Elizabeth. From 23 August – 12 September, visitors to the university's Bird Street Gallery are invited to explore concrete masterpieces by a number of top local creatives chosen as finalists for South Africa's most supportive art and design competition.

The official launch of the exhibition will be a gala event at the gallery on Wednesday 22 August, where one can view finalists across all categories of the PPC Imaginarium Awards, including film, fashion, sculpture, jewellery, architecture and industrial design.

The annual travelling exhibition of the PPC Imaginarium Awards follows the crowning of its category winners and runners-up. The first stop was the University of Johannesburg (UJ) Art Gallery where the national judges chose the winners and runners-up; thereafter the works travelled to Cape Town to exhibit at the Association for Visual Arts (AVA) Gallery, to Newtown's RMB Turbine Art Fair and 100% Design South Africa in Midrand.

In 2018, the PPC Imaginarium Awards named a record number of national finalists for the competition – 62, of which nine were declared winners and runners-up (excluding architecture).

Overall winner Chris Soal's piece, "Imposed Structure (Deflated)", speaks to the realities of growing up in a city environment, where soccer is played in the streets, on concrete and tar, and the relationship between soccer and the South African industrial sector. A design that conceived of a "public, connective architecture" for District Six won the prize for Architecture at the 2018 Architecture ZA (AZA) conference, conceptualised by University of Cape Town (UCT) student Roark Robinson. Both Soal's and Robinson's entries will be on show at the Bird Street Gallery at NMU.
The exhibition is open daily except Sundays.
Opening Times
The exhibition opening will be 6pm - 8pm. The daily viewing times are 9am - 3pm only on weekdays.
Contact Details
Where
| | |
| --- | --- |
| Venue: | Bird Street Gallery |
| Event Address: | 20 Bird Street Central, Nelson Mandela University |
MAP
Latitude : -33° 57' 54.80" S | Longitude : 25° 37' 1.72" E