The River Mile - Sundays River
22 February 2020 - 23 February 2020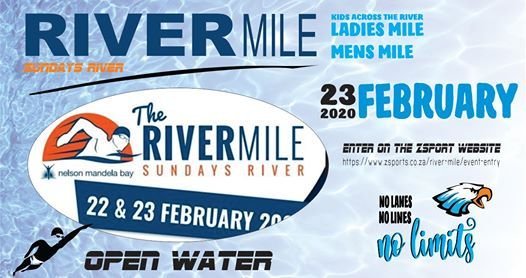 Hosted in Nelson Mandela Bay, The River Mile is an action packed family day out at the picturesque Cannonville on the Sunday's River and in 2020 will be celebrating it's 96th Anniversary.
Taking place on Saturday 22nd & Sunday 23rd Feb 2020 you can expect a wide variety of crafts, vendors, beer garden, Rotary Kids Zone and sporting events suitable for the entire familly on offer.
Entry into the secure festival area is just R20 (kids 10u free) whilst participants wearing their relevant race wrist bands get free entry.

A newly introduced R30 levy by Sanparks for all participants has been included in your entry fee for 2020.
The River Mile is a part of the GLOBAL SWIM SERIES - the world's largest open water swimming series!
A collection of 150+ races from over 34 countries around the globe that have joined together to promote open water swimming and a healthy, active and adventurous lifestyle.
Over 100,000 swimmers participate in GSS races and compete against swimmers from around the world using our unique Global Ranking system that recognizes both speed and participation.
Schools wishing to be considered need to apply via email to Zsports, see Terms & Conditions for this competition. This applies only to online paid entrants where the school name is correctly indicated on the participants website Profile. Applicable to teachers and scholars ONLY and the count will be across ALL EVENTS with High School and Primary School's considered as seperate entities.ONLINE entries close before Friday 21st February.
School's may be required to show how they have promoted the event to their scholars during this campaign.
Beer Garden
The River Mile Festival offers something for the WHOLE family.
You can expect to find great vendors, food stalls, crafters, exhibitors, displays, the Vodacom Rotary Kids Zone and the Bridge St Brewery Beer Garden for over 18's.
Plenty parking with attendants on site in this tranquil village just 30km outside Port Elizabeth.
See Festival Program for further information.
Vendors, Stall & Exhibitors
Have something exciting that you want to sell / showcase at the River MIle ? Here's your chance to capitalise from more than 3,000 people that are anticipated at the River Mile - Click here to download the application form. Limited space is available and will be allocated on application.
Vodacom Rotary Kidzone
The Vodacom Rotary Club of PE Sunrise host a massive kids play area filled with inflatables. Entry into the Rotary Kids Zone is just R40 per day with the kids being supervised by members of the Rotary club and their helpers.
Tickets are available at the Kids Zone entrance with all proceeds going towards community projects managed by the Rotary Club of Port Elizabeth Sunrise which meets every Friday morning between 7am and 8am at Lion Roar's (Main Road Walmer).

Event Information and Fees
For more specific information on the events and the entry fees see our Event Info Page. (See link below)
Opening Times
09h00
Costs
Public Area entry fee: R20 per adult (R50 after 13h00) Kids U/10 enter for free
Contact Details
Where
MAP
Latitude : -33° 42' 37.28" S | Longitude : 25° 47' 51.73" E