The Snow Goose
09 February 2019 - 11 February 2019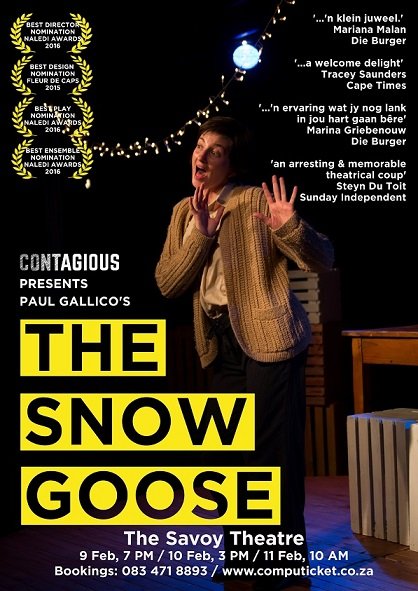 This multi-award nominated production is an adaption of Paul Gallico's classic novella played out on the desolate Essex marshes and set against the background of the miracle of Dunkirk. A wounded snow goose brings a young girl, Fritha, and the recluse Philip Rhayader together in a moving story of friendship and courage.

The Snow Goose is directed by Jenine Collocott and features Taryn Bennett and James Cairn playing the many colourful characters that bring this heartwarming story to life using theatre masks, a dramatic soundscape and simple props to propel audience into the heart of the story.
"heartwarming...superb...brilliant... The production team and cast master the re-telling of a beautiful story which is gentle yet deeply poignant." - Lauren Vogt, What's On

"…This play is a must-see. It will make you cry but it will shift your parameters as to how good theatre in this country can actually be… Don't miss it" - Robyn Sassen

" will linger long after you leave the theatre....a welcome delight and a reminder of the enduring value of friendship, compassion and kindness." - Tracey Saunders, Cape Times

Tickets for 9-10/2/19 R120 Adults, R90 concessions. Bookings at Computicket.
Special schools show Monday 11/2/19 at 10am with all tickets R60. Call 072 906 1977 for group bookings.
Opening Times
19h00; 15h00; 10h00 respectively
Costs
From R60 to R120
Contact Details
Where
Venue:
The Savoy Theatre
Event Address:
cnr Diaz Rd & Collett St
Adcockvale
MAP
Latitude : -33° 56' 31.68" S | Longitude : 25° 35' 8.02" E