UWC Choir and Mandela Chamber Choir Concert
08 September 2019 - 08 September 2019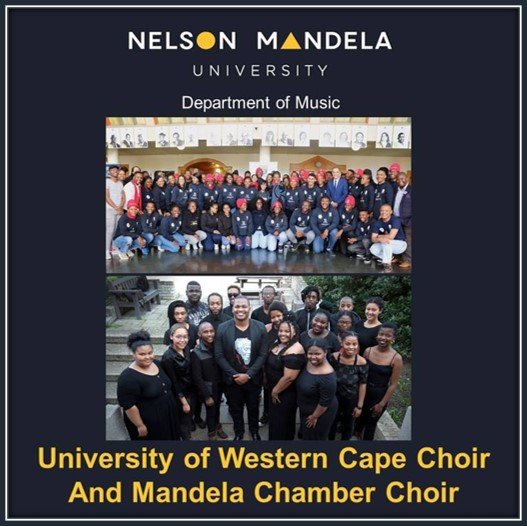 On 8 September, the Mandela Chamber Choir will be joined on stage by the University of the Western Cape Creative Arts Choir (UWC CAC) at 13:00.
The University of the Western Cape Creative Arts Choir (UWC CAC) became an independent student choir in 1989. A student-led initiative since its inception, the choir has nurtured the singing talents of hundreds of students from economically disadvantaged backgrounds and produced several award-winning conductors and composers. The choir has participated in the National Choir Festival, the Western Cape Choral Music Association (WECCMA) and South African Tertiary Institutions Choral Eisteddfod (SATICA) since the 1990s. It regularly performs at university events and graduations, has toured many other universities and participated in public concerts and festivals around the country.
As a university student choir, UWC CAC constantly faces a high turnover of participants as students graduate. Despite this and the difficulties of being largely self-funded, the choir has maintained a remarkably high standard of performance. Among its many accolades and achievements in recent years the choir was:
National Choir Festival Western Cape eliminations overall winner 2008, 2009, 2013 and 2015.
SATICA overall winners 2009, 2012 and 2014.
Western Cape Choral Music Association (WECCMA) eisteddfod overall winners 2012, 2013 and 2014.
Old Mutual National Choir Festival National large category overall winner in 2013.
2016 Varsity Sing Semi-Finalist (a televised reality-type show competition for student choirs).
In 2018 the UWC CAC reached its greatest achievement in Tshwane at the first World Choir Games hosted in an African country when it was crowned the winner in the Category 9 Mixed Choirs Open Competition and also received a Gold certificate as a first-time participant.
The Mandela Chamber Choir consists mainly of music students who major in voice. The choir started as an initiative to engage choral conducting students to apply their skills in a more practical manner and gain real life experience.
Choir Conductor, Akhona Nkumanda, has conducted various choirs throughout Port Elizabeth, including the Eastern Cape Youth Choir and Eastern Cape Junior Children's Choir. He has directed a few Musical Theatre productions which include "Ipi Tombi" and "West Side Story" to name a few. He is also a Classical singer in his own right. For 8 years, he formed part of the Nelson Mandela University Choir who travelled and performed internationally.
Tickets will be on sale at the door on the day of the concert or concert patrons can book ticket by phoning 041 504 4235.
Opening Times
14h30 for 15h00
Costs
Adult: R50 / Pensioers: R30 / Students: R20
Contact Details
Where
Venue:
NMU South Campus Auditorium
Event Address:
NMU South Campus
Summerstrand
MAP
Latitude : -34° 0' 33.63" S | Longitude : 25° 40' 9.75" E