Valentines Drive-In Cinema
14 February 2021 - 14 February 2021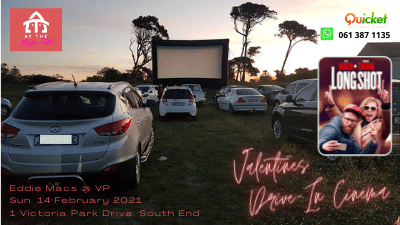 What better way to kick off Cinema for 2021? Love is in the air! Let's celebrate the month of LOVE with some old-school vibes. nostalgia and retro style Drive-In cinema fun.

Bring Bae, a blanky, cushions and some romance to our Valentines Drive In Cinema, whilst watching Charlize Theron in action in another great Rom Com, Long Shot.

SCRUMPTIOUS meals, beverages, popcorn, slush, adult slush, milkshakes and snacks will be available at AFFORDABLE prices at the venue. Please support our vendors.

Let's get out, let's get together SAFELY and let's have a bit of fun. We're excited to share some 'FREEDOM' with our awesome guests this valentines day.

Get Tickets:
FROM R150 per couple

Quicket
https://qkt.io/bemyvalentine2021DI

WhatsApp
061 387 1135

At the Gate:
R250 per car (max 4 people)

FINE PRINT:

The event will only get postponed due to poor weather conditions - 30 km/hr gusts or rain.
All ticketholders will be notified 8 hours prior to the event starting time.
All ticketholders will be refunded in full should the event get postponed or cancelled.
We encourage all guests to please support the food and beverage vendors at the event.
Audio will be transmitted via FM radio. - Please bring a portable FM stereo device with, should you not have a car radio.
Masks is a MUST when in public spaces outside of your vehicle.
Social distancing should be applied at ALL times in the public areas.
All vehicles will be ushered to a designated parking spot on arrival. Please remain patient while our marshals park vehicles to give everyone maximum visibility from the vehicles.
SAFETY FIRST: Please drive slow. 30km/hr max speed on site.

See you at the MOVIES!
Opening Times
19h00
Costs
From R150 per car
Contact Details
Where
Venue:
Eddie Macs at VP
Event Address:
1 Victoria Park Drive
South End
Port Elizabeth
MAP
Latitude : -33° 58' 31.76" S | Longitude : 25° 37' 16.28" E