Womxn Xplore - A Travel Expo & Summit Supporting Womxn in Tourism During Women's Month 2022
19 August 2022 - 20 August 2022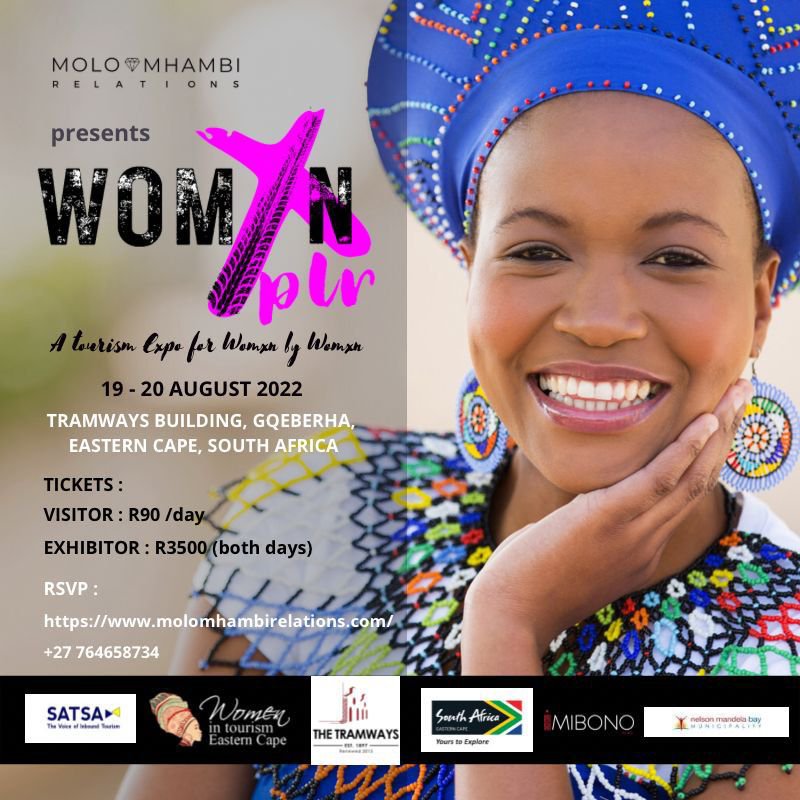 Womxn Xplore - A Travel Expo & Summit Supporting Womxn in Tourism During Women's Month 2022
Womxn Xplore is a tourism expo and summit taking place in Gqeberha in the Eastern Cape from the 19th to the 20th of August 2022. The event will be held at the Tramways Building and will comprise a workshop-style summit and a market-style expo. The Womxn Xplore summit invites womxn-owned businesses from the Eastern Cape to register to exhibit at the expo. All womxn who work, have businesses, study or invest in tourism are invited to the Summit which will take place from 08:30 to 13:30 on Friday, 19th August.
The Summit is a platform to engage and challenge the obstacles of doing business in tourism. It will include a tourism masterclass, funding masterclass, and PR strategy workshop. A virtual information session will be held on Wednesday 06 July 2022 from 10:00 to 10:30. Click here to Register.
EXHIBITORS
Is yours a womxn-owned business in hospitality, tourism and travel? is your business based in the Eastern Cape?
Please click the link below to apply to exhibit your business at Womxn Xplore 2022. https://www.molomhambirelations.com/event-details/womxn-xplore-travel-expo-summit-2022/form
WOMXN IN TOURISM
If you are a womxn who works in or studies tourism, or have a business in tourism but are not able to exhibit, please join us for the Womxn Xplore Summit taking place on the first day of the event. Click here to buy your tickets - https://qkt.io/y2gy9N
HOSTED TRAVEL BUYERS
There will be a Fam trip of Tsitsikamma, St Francis and Nelson Mandela Bay hosted in partnership with SATSA, NMBM EDTA, ECPTA, St Francis Tourism and Tsitsikamma Tourism Association. If you are a travel agent, DMC, tour operator, or MICE agent who sells the Eastern Cape, Limpopo or Mpumalanga please email ec@satsa.co.za to apply for the Hosted Buyers programme and Fam Trip taking place 16-21 August 2022.
HOSTED TRAVEL MEDIA
If you are a travel writer, travel journalist or content creator that promotes the Eastern Cape, please email mandisa@molomhambirelations.com to apply for the Hosted Media programme and FAM Trip taking place 16-20 August 2022.
TRAVELLERS
Members of the public and want to see the experiences on show, please click here to buy tickets: https://qkt.io/kHMLxQ
Requirements to exhibit at Womxn Xplore 2022:
A registered travel-related business
A travel-related business 51% or more womxn ownership
Is your business registered on CIPC?
Are you insured for the type of business that you run?
Do you have proof of turnover from your accountant?
Do you have professional branding including a website, logo, marketing material, and banners?
TICKET INCLUDES
Table & table cloth
Signage only – please ensure you have marketing material and a maximum of 2 pull up banners.
2 summit entries
One-on-one meetings in the business clinic
Meetings with hosted buyers
Listing on Womxn Xplore website
Placement in Womxn Xplore event publication
SATSA Growth Membership
SUMMIT PROGRAMME
08:30 - 09:00 Light breakfast & Networking
09:00 - 09:15 Opening & Welcome - Mandisa Magwaxaza, Founder of Molo Mhambi Relations
09:20 - 09:30 A Word from our Sponsors
09:30 - 10:15 Tourism Masterclass - Hannelie Du Toit, COO of SATSA REFRESHMENTS
10:30 - 10:50 Innovate Tourism - Phakamile Hlazo, Founder: Zulu Nomad & Innovate Tourism
10:55 - 10:15 Tech in Travel & Conservation - Lara Dendy Young, Co-founder: Conservio
10:20 - 10:35 The Business of Social Influence - Zandile Ndhlovu, The Black Mermaid WORKSHOP: Influencer Strategies - Mandisa Magwaxaza & Zandile Ndhlovu
11:00 - 11:10 A Word from our Sponsors
11:10 - 11:30 Business Clinic: Funding & Resources
10:30 - 12:00 Business Clinic: Digital Distribution
LUNCH & NETWORKING
13:00 - 13:30 | ENTERTAINMENT | OPENING OF WOMXN XPLORE EXPO
EMAIL: molo@molomhambrelations.com WHATSAPP: +27 (0) 76 465 8734 WEBSITE: https://www.molomhambirelations.com/ FACEBOOK: https://www.facebook.com/MoloMhambiPR LINKEDIN: https://www.linkedin.com/company/molomhambipr/
Contact Details
Where
| | |
| --- | --- |
| Venue: | Tramways Building |
| Event Address: | 16 Lower Valley Rd, South End, Gqeberha, 6001 |
MAP
Latitude : -33° 57' 55.23" S | Longitude : 25° 37' 32.32" E