Yi-Jia Susanne Hou (violin) and Annalien Ball (piano)
26 August 2019 - 26 August 2019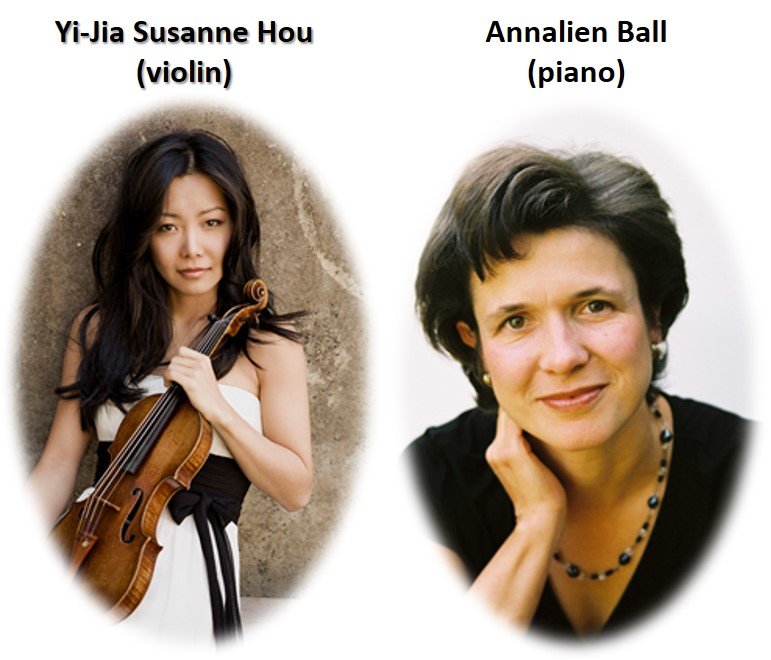 Born in Shanghai and raised in Mississauga, Hou grew up in a musical family. At the age of nine, she studied at the Royal Conservatory of Music. She went on to attend The Juilliard School where she studied with Dorothy DeLay, Naoko Tanaka, and Cho-Liang Lin. At Juilliard, she completed BM and MM music degrees and received the Artist Diploma.
By age 17, the young violinist performed Paganini's Twenty-four Caprices for Solo Violin in Toronto and Aspen. She has also performed all ten of Beethoven's Piano and Violin Sonatas in New York, as well as the complete collection of Brahms's Violin and Piano Sonatas and Piano Trios. Hou continues to perform as an international soloist, and has recorded the Sibelius Violin Concerto and short works by Sarasate on her CD, Fire & Ice.
She captured three gold medals with unanimous decisions at International violin competitions: Concours International Marguerite Long-Jaud (France, 1999), the Rodolfo Lipizer International Violin Competition (Italy, 1999) and the Pablo Sarasate International Violin Competition (Spain, 1997). Sir Yehudi Menuhin referred to Hou as "absolutely phenomenal… one of the greatest young talents of the future…" and Jean-Jacques Kantorow, member of jury in the Concours International Marguerite Long-Jacques Thibaud said, "By the final round of the competition, Ms. Hou had the entire jury at her feet".
Professional pianist and accompanist, Annalien Ball, regularly performs with various South African and International artists. Highlights of 2019 include a recital with Chinese violinist, Jiafeng Chen, in the Linder Auditorium, a duo recital with Chinese clarinettist, Junnan Sun at Unisa, as well as two performances of the Beethoven triple concerto with violinist, Ian van Rensburg (Denmark), and cellist, Jan Pech, from Prague in the Brooklyn theatre. Since 2002, she has been the accompanist of French violinist, Philippe Graffin, on all his South African tours. For a number of years now she has been the accompanist at the Mozart Festival in Gauteng for the week of vocal master classes with Professor Josef Protschka of Cologne.
Annalien started piano at an early age and her piano teachers include, Adolph Hallis and Marian Friedman. She completed a BMus, BMus (Hons) and MMus at the University of Pretoria. After finishing her studies, her main focus gradually moved away from solo performance to chamber music and piano accompaniment. Annalien has been the pianist of numerous ensembles: The Allegri Trio, Trio Con Brio, Chalumeau trio, Trio Gloriosa, The Aulos trio, The Integration trio as well as The Magic Flutes.
For their recital in PE, they chose to play the following repertoire:
Franz Schubert Sonatina in D major No. 1
Ludwig van Beethoven Sonata for Piano & Violin No.5 "Spring" in F Major
Manuel de Falla Suite of Spanish Folk Songs & Dances
Yang Bao Zhi Wong Luo Bing Suite of Chinese Folksongs
Henryk Wieniawski Variations on an Original Theme, Op.15
Please join us for a wonderful evening of violin and piano masterpieces.
Manna Delights (sweet eats) will be available so please remember to bring some extra cash!
Opening Times
19h00
Costs
Adult: R95 / Pensioers: R80 / Students: R40 / Scho;ars: R35
Contact Details
Where
Venue:
NMU South Campus Auditorium
Event Address:
South Campus
Summerstrand
MAP
Latitude : -34° 0' 33.56" S | Longitude : 25° 40' 9.91" E