Addo Tours and Transfers
Location
Eastern Cape > Port Elizabeth > Kabega


Description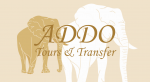 ADDO Tours and Transfers is a small, intimate touring company, that was established with the intention of creating an experience in nature through the eyes of a professional Game Ranger. With us you can explore some of our heritage and history, so when you leave you have captured a bit of South Africa to take with you.
Company Profile
After spending 18 years as a Professional Game Ranger in Big 5 Reserves throughout South Africa, and a passionate person about nature and the outdoors, I decided to start my own business. My aim is to share all aspects of nature, big and small with all types of guests, National or International, to experience nature through my eyes. Sharing our heritage with anybody that would like to experience it.

Services
Transfers to Game Reserves in Eastern Cape
Guided tours by experienced game ranger into Addo National Park
4x4 adventures
Day Trips to various adventure destinations
Help to plan your trip of a lifetime when visiting South Africa.
MAP
Latitude : -33° 56' 42.02" S | Longitude : 25° 30' 20.68" E


Image Gallery
Experience
Travel and Tours

Road Transport
Shuttle Services


Tours
Specialised Tours
Tour Guides
Wildlife Tours

Languages
South African
Afrikaans
English