Despatch Museum
Location
Eastern Cape > Despatch > Despatch


Description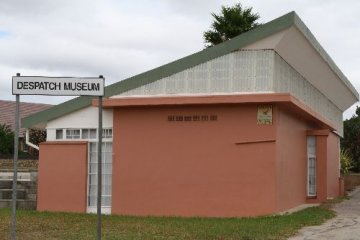 As part of a long-term vision, an initiative of the "Friends of Despatch" finally brought about the recently-opened Despatch Museum. The interior boasts a mini model of the Stegosaurus, which was discovered in Despatch in 1903. (The original dinosaur is currently on display at Bayworld).
Alongside it, are examples of the original bricks produced in the town, as well as a further two models of beautiful, red brick chimneys built by a former town engineer. Given the fact that many well-known sportsmen originated from Despatch, numerous sporting memorabilia festoon the walls of the museum.

These include six rugby Springbok blazers, along with the jackets of two South African cricket umpires and the running gear of a Comrades Marathon winner. Names such as Danie Gerber, Adri Geldenhuys, Rudi Koertzen and Charl Mattheus, amongst others, are synonymous with Despatch.
MAP
Latitude : -33° 48' 0.86" S | Longitude : 25° 27' 47.98" E


Image Gallery
Services
Experience
Things to See and Do
Adventure & Sports


Historical
Museums