Jewish Pioneer Memorial Museum
Location
Eastern Cape > Port Elizabeth > Central


Description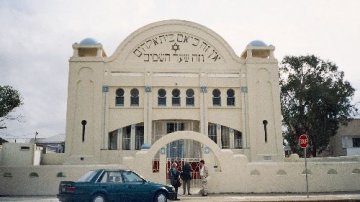 The Jewish Pioneers' Memorial Museum which is located in Raleigh Street, Central is open to the public between
10am and noon every Sunday, expect when it is a Jewish holy day. The museum is housed in the original Raleigh
Street synagogue, which was used by the city's Eastern European Jewish community between 1912 and 1954. It features an interesting collection of memorabilia, ceremonial items and historical photographic displays such as a bridal gallery, a Jewish ex-servicemen's memorial and much more. Admission is free. Donations are greatfully accepted.
MAP
Latitude : -33° 57' 33.15" S | Longitude : 25° 36' 48.02" E


Image Gallery
Experience
Things to See and Do

Historical
Buildings
Historical Places
Museums