15 miles 'not enough' for Bay swimmer
04 February 2011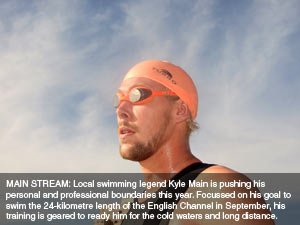 FOR some swimming one mile of the Sundays River is too much, for Kyle Main 15 miles is not enough.
In preparation for his record breaking attempt on the English Channel in September, Main – a long distance swimming pioneer – will cover a substantial length of the Sundays River.
He will swim from Barclay's bridge to the river mouth - a distance of roughly 15 miles or 24 kilometres – on February 12, two weeks before the annual Redhouse River Mile at the same venue on February 27.
"This length of the river has never been swum before, so I will go out in a boat this weekend and plot distances and landmarks with GPS," said Main.
"Sea and wind conditions have not been favourable for an ultra sea swim, which is why I will tackle the river first."
The 28-year-old will also do a grueling 30km plus swim from Sardinia Bay to Hobie Beach and a 21km sea swim from Hobie Beach to the Bellbuoy three times, among others, ahead of his attempt to become the fastest African, and top ten fastest swimmers ever to traverse the English Channel in the first week of September 2011.
Also part of his programme are nine cold water sea swims starting at one hour duration - building up to three hours in the water during July and August and a three-day training camp at Marina Martinique during which he will swim 60km.
In addition he swims on average 50kms per week in the pool extending his mileage in December.
While the average solo crossing time for the 26km distance from Dover to Callais is 13:20:11, Main is aiming to complete it between eight and 8 and a half hours and in so doing set the fastest time for an African and post a top ten time in history in his first attempt. If successful he will clip close to 30mins off the fastest South African's time of 8:58, set by Barend Nortje of Cape Town.
The fastest verified swim of the channel was by the Bulgarian Petar Stoychev August 24, 2007. He crossed the channel in 6:57:50. Main has his sights set on a possible world record in future attempts.
Main currently holds 21 Eastern Province swimming Records and a number of long distance swim firsts.
CONTACT KYLE MAIN : 084 503 6409 mobile.