91st SPAR RIVER MILE SET TO ENTERTAIN NELSON MANDELA BAY
10 February 2015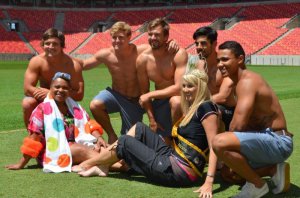 Nelson Mandela Bay is set for a great week end of family entertainment, sport and fun as the 91st SPAR River Mile takes place along the Sundays River on the 14th and 15th February 2015.
The festival has an action packed line up taking place in and out of the water. This will include the traditional mile swim and family half mile swim among others. Heinz Winkler is set to entertain the crowds on the Saturday, 14th February at 3pm and well-known mentalist and illusionist Larry Soffer on Sunday, 15th at 3pm.
"If this is not enough to get you to the festival we are sure the celebrity swim which is becoming a firm favourite just might convince you." Mr Zoetmulder of Zsports added.
Event organiser Mr Michael Zoetmulder of Zsports joined Nelson Mandela Bay Tourism CEO, Ms Mandlakazi Skefile in announcing some of the celebrity participants this morning at the Nelson Mandela Bay Stadium. These include the strong and fit EP Kings Rugby Players, Die Burger Boardwalk Mr PE 2014, Andre Fourie as well as beautiful Mrs Mzansi, Alta-Marie Grebe.
Nelson Mandela Bay Tourism CEO, Ms Mandlakazi Skefile says, "We should all participate in the events such as the Spar River Mile as they are great family festivals with fantastic entertainment that takes place right here on our doorstep."
"We had a fantastic time last year, it was a great day and a lot of fun, and we are really looking forward to being a part of the event again this year," said EP Kings player, Shane Gates.
"We really would like to encourage people to come down to Sundays River and support the River Mile and the Kings in our Celebrity Swim with Mr PE, Andre Fourie." He said.
Mr PE, Andre Fourie says, "When events combine family, fun, fitness and health I am always extremely proud and excited to participate as I try to implement these principles in my own lifestyle whilst motivating others to do so as well."
According to event organiser Michael Zoetmulder, the festival – which drew 1 600 participants last year – is the only one of its kind nationally that combines world-class sporting events with an affordable, family-friendly festival.
Festival gates open at 8am daily and entry costs R20 per person, while children under 10 are free.