Adventure 101: Explore the Unthinkable
12 July 2018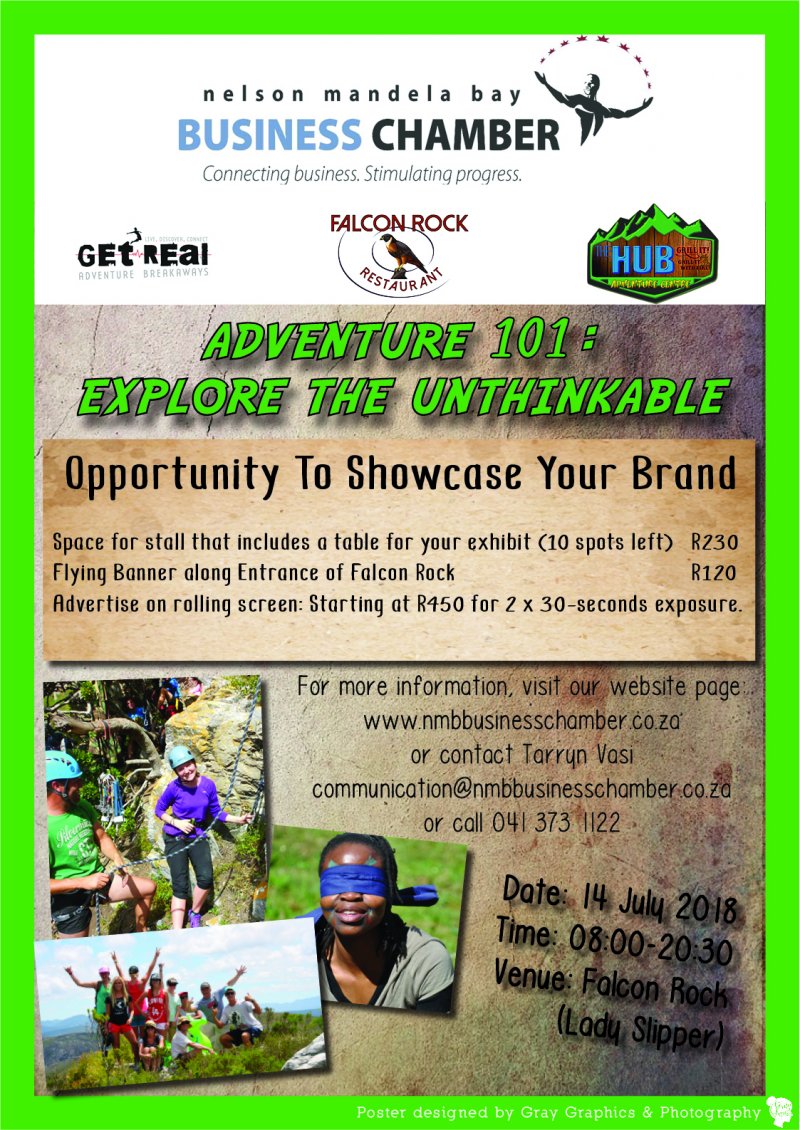 The Nelson Mandela Bay Business Chamber is hosting Adventure 101: Explore The Unthinkable at the beautiful Lady's Slipper on Saturday, July 14th. This full day event will be held at popular venue, Falcon Rock at The Lady's Slipper.
Bring your family, friends or colleagues and enjoy a day out in this beautiful mountain reserve with its spectacular views.
Besides a hike, there will be a 5 km trail run, a guided birding and heritage tour, black powder or musket shooting, archery, tandem paragliding, rock climbing, bouldering, abseiling, paintball, and teambuilding games (for teams of 10 to 20).
There are also exciting branding opportunities for members of the chamber only. These include, exhibiting your company, putting up flying banners and advertising on rolling screens.
The trail at The Lady's Slipper takes an hour and a half to two hours, up and down. About a third of the way up there is an open rock platform where hikers can enjoy a splendid view and get their breath back before continuing. The trail should only be attempted by fit and sure footed hikers.
Hikers will be required to complete a permit at the venue on the day.
The evening will see visitors sitting under the night sky to enjoy outdoor cinema and popcorn so bring blankets, beanies and warm jackets. The event closes at 20h30.
Adventure 101: Explore the Unthinkable is being organized by the Nelson Mandela Bay Business Chamber in aid of The Kleinskool Initiative. Proceeds will go to this CSI initiative that assists children in the Kleinskool area. Their main focus is on education, encouraging learners to complete their school education and providing them with school fees, uniforms and necessary stationery.
The entry fee is R50 per adult which includes a hike up the Lady's Slipper and R25 for children under 12. Younger children can enjoy activities under supervision of a child minder facility. There are separate entry fees for the other events on the day.
For more information; visit www.nmbbusinesschamber.co.za, contact Tarryn Vasi on E-mail: communication@nmbbusinessschamber.co,za or Tel 041 373 1122.