AURORA SPECIAL CARE CENTRE HOSTS A SPECIAL RACE DAY TO CELEBRATE JOY
12 July 2018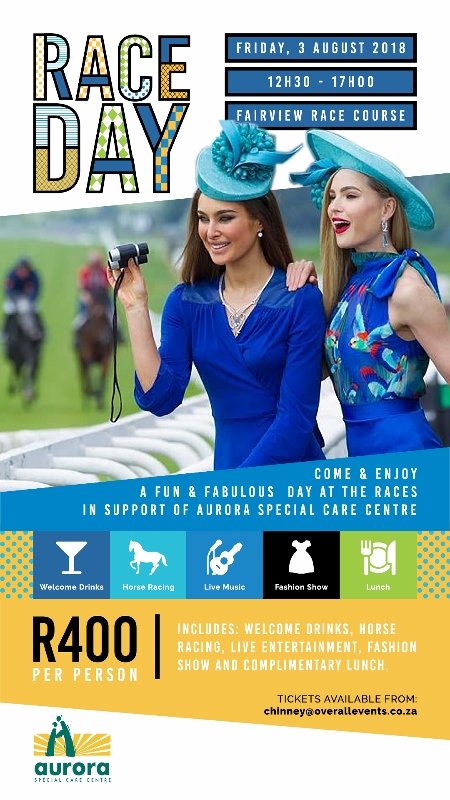 Have you heard of Aurora Special Care Centre situated in Alan Drive Walmer Downs?
They cater for 115 children and adults with profound mental and physical disabilities irrespective of race, language or creed.
They are an NPO 003-605 and therefore rely on corporate and private funding to keep our facility functioning.
There is a Stimulation Centre that consists of 8 classes providing holistic care within a professional , structured and caring environment. The children attend the centre on a daily basis from surrounding areas and from disadvantaged communities.
They currently have 34 children and adults that live at the Centre in the residential side that require 24 hour care. As an non-profit organisation, they need to cover the costs of the staff that enable this service to the children.
They are currently in need of funds to upgrade their security camera systems as well as to purchase a utility bakkie that will have a major impact on their daily activities.
It is with this in mind that we invite you to book your table or seat at the Aurora Race Day taking place on Friday, 3 August 2018 from 12:30pm until 16:30pm.
It promises to be a fun and glamorous affair that will try and equal the joy that the children bring to the Centre.
We invite you to dress up, enjoy some delicious food, entertainment, views and the all excitement that goes with a race day.
Seats are only R400 a person and can be booked by mailing chinney@overallevents.co.za
Or click here to book: https://AuroraRaceDayBookingForm