BAY GETS INSTAGRAMMED BY SA'S TOP TWO IGERS
04 December 2014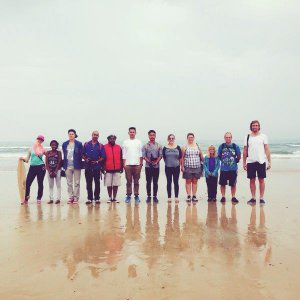 A collaboration between Nelson Mandela Bay Tourism (NMBT) and South African Tourism (SAT) last week saw two of South Africa's top instagramers, or igers, brought in to cover youth skateboard event, the Donkin Downhill Dash, and to go on a picture tour of the city.
Gareth Pon and Alessio La Ruffa are well-respected, forerunners in the local Instagram community. Pon is considered South Africa's foremost digital and online influencer.
As head of the South African Instagram community, he has in excess of 200 000 followers on Instagram and close to 2 000 posts. He has 2 259 followers on Twitter from around the world and in excess of 7 000 posts.
He is also a film maker, photo shooter and a sought after speaker on digital communities and photography. He often travels globally to ply his trade as an instagramer and photographer.
La Ruffa has a total of 14 947 followers on instagram and does work across the board for major clients, including City of Joburg, FNB, Audi, Woolworths, BMW, Mini, iStore and others. He calls himself a "digital storyteller" and "just a geek doing stuff".
The duo participated in a double bill of "instawalks" on the weekend of November 21 and 22, with local Port Elizabeth instagramers. This included taking snaps of the Donkin Downhill Dash, doing an inner city walk through and a photo walk along the King's Beach Promenade, and a visceral township experience in New Brighton and Zwide.
SAT collaborated with NMBT to profile the city as part of the #MeetSouthAfrica campaign, a tourism drive to show the real face of the country while NMBT encouraged the #MyNelsonMandelaBay campaign to remind locals and visitors that the city belongs to the people and to be proud.
Titus Chuene, NMBT Marketing Manager, said it was important to acknowledge the power of digital media as a tool for showcasing spaces, places and people.
"Nelson Mandela Bay is best known for our incredible, friendly and open people, but also, we are lucky to have ongoing inner city and township development which is reshaping the city. Gareth and Alessio are able to capture the spirit of people and the city through their photography – and mainly, to share that with their wide networks.
"We had a great time having real moments – and visiting those hidden gems in the city, places like Cubata and Lifa Mafa Shisa Nyama in Zwide. It's really amazing how your view changes, even on places you know well, when seen through the lens. Gareth and Alessio in a way gave me a new perspective of the city," Chuene, who is a novice instagrammer, said.
The approach builds on decisions taken last year at a meeting of business and tourism leaders to focus on digital communications as a marketing tool. Nelson Mandela Bay Tourism has adopted a 3 year strategy which has a large focus on on-line and digital marketing through authentic content derived from real experiences.
Meanwhile, the reality of the experience is what speaks volumes. "My experience was fantastic. From the flights, the welcome at the airport, to the chisa nyama on our last day, the whole experience went smoothly and was thoroughly enjoyable. The fact that the itinerary was flexible also helped, which meant that we got to see and do some really cool things." said La Ruffa.