Bay's signature 'sunflower' stadium
29 May 2012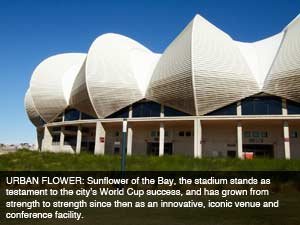 SUNFLOWER of the cityscape, the Nelson Mandela Bay Stadium, rises out of the industrial urban sprawl flanked by two bodies of water. It is a testament to the forward vision and dedication of the likes of local hero Dr Danny Jordaan who brought the World Cup to South Africa.
But it has far surpassed and exceeded its World Cup expectations, evolving into an innovative, iconic venue and conference facility, a new home for events in the city and an inspiring, permanent Bay asset. The stadium has entrenched itself into local hearts and catapulted Nelson Mandela Bay onto the world stage through its spectacular sporting and other events.
"It's weird you know, watching an incredible thing like a stadium rise from the dust," said Nelson Mandela Bay Tourism marketing manager, Titus Chuene. "But within a year our stadium was up – and I simply can't imagine the cityscape without it."
Voted in by city locals as one of Nelson Mandela Bay's top ten city icons in a recent tourism campaign, the stadium is an intricate weave of 'petals'. The structures are a combination of aluminum cladding, coated glass-fibre fabric and steel super-structure, which integrate to create what many people in Nelson Mandela Bay describe as a "stunning image" of a sunflower rising 40-metres from the field level.
With a capacity of over 46,000, the R2-billion Nelson Mandela Bay Stadium was built overlooking the picturesque North End Lake, just a stones-throw away from the city-centre and is one of three coastal stadia built in anticipation of the World Cup.
"There are always fears that stadia might become white elephants," said Chuene. "But not so. Not with our stadium. It has grown from strength to strength, going on to win host status for the fast-paced IRB Sevens World Series South African leg for the next five years and has also secured international rugby games this year and next. In this it is a huge asset to the city and the tourism industry."
The stadium is equipped to world-class standards with two giant viewing screens, 150 VIP suites, 60 business suites, two large conference rooms with the capacity to host 200 people, and numerous multi-purpose venues.
The stadium is also one of very few poison-free stadia in the world and has set a standard in efficient bird control, using natural predators like Rock kestrels, Spotted Eagle owls, bats, Cape Wagtails and African Pied wagtails in the management of rodents and insects in and around the beautiful 'sunflower' stadium.