CAST OFF FROM THE CHARL MALAN QUAY IN THE PEOPLE'S PORT FESTIVAL ANGLING COMPETITION
17 March 2017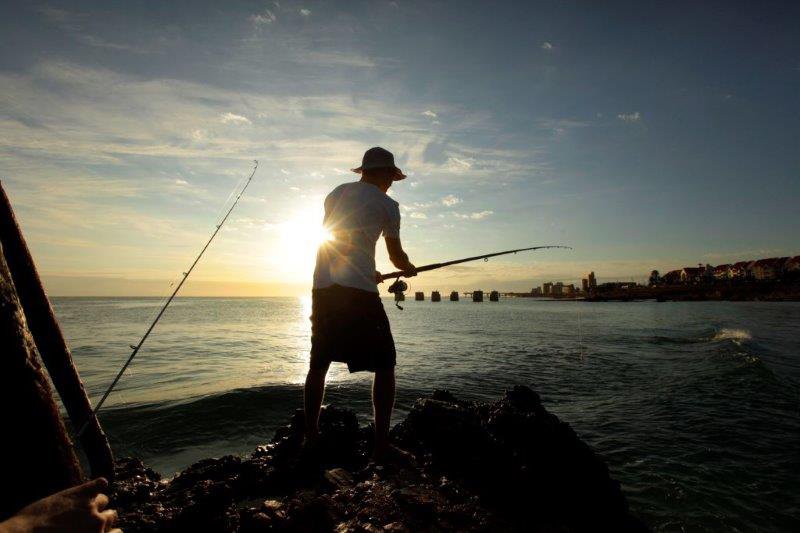 On March 25th and 26th, anglers will be able to cast off the Charl Malan Quay, a highly-decorated spot in Port Elizabeth usually a restricted fishing area.
Part of the inaugural People's Port Festival, the angling competition takes place on Saturday, March 25th at 6 am with entry costing R200 per person with a limit of two rods per person.
"The People's Port Festival opens up the port of Port Elizabeth to the public, and anglers get the opportunity to fish from a quay which is home to Port Elizabeth's container terminal and usually restricted to the public. Participates stand a chance to win significant prize money on the 25th, and being able to mentor and coach orphaned children in the art of angling on our charity day, March 26th," says Rajesh Dana, the Port of Port Elizabeth port manager for Transnet National Port Authority (TNPA).
Prize money for the competition is valued at over R40,000 which makes it one of the biggest shore angling events in Port Elizabeth. Entry is open to anglers with a valid angling licence. For full details visit the People's Port Festival website or contact Brett Harris on 083 412 5316.
Social angling from the Charl Malan Quay will be available on March 26th from 6 am to 1 pm, for R50 per person. Alongside the social angling will be a charity angling event between 8 am and 2 pm for orphans to learn how to fish and be coached from local fishermen.
Tickets available from Trophy Tackle Den, 41, 3rd Avenue, Newton Park.
About the People's Port Festival
The first People's Port Festival will allow visitors to step inside the theatre of port operations, and experience the lifestyle and opportunities the waterfront development offers the city of Port Elizabeth.
"Our port, is a melting pot of cultures and nationalities and as such is a focal point in so many ways for so many people," explains Rajesh Dana, the Port of Port Elizabeth port manager for TNPA. "We want people to experience the exciting world of port operations and have a glimpse into the future vision of our port and the role it plays in our city."
Throughout the weekend, there will be a number of unique experiences available for people to immerse themselves in:
The iconic SA Agulhas which has just returned from Antarctica will be available to board, with some of its crew and researchers available to interact with
Winners of the various festival competitions stand a chance to board a tug and have the unique experience and participate in the docking watch of a cargo vessel or board a pilot boat and cross the breakwater into open seas
Experience some of the technological advancements in the ocean economy, and the technology the port of Port Elizabeth and its valued partners have invested in
Screening of documentaries including the SAS Mendi, to commemorate its sinking 100 years ago
Explore the heavy port machinery used for handling cargo, including a boat hoist that can lift 90 tonnes.
"The event isn't just about showcasing the port and the cargo that is imported and exported," adds Dana. "Visitors can enjoy entertainment from national artists, purchase fresh produce in our fish market and even participate in watersports."
The diverse programme of activities, demonstrations and entertainment currently includes:
Automotive exhibition
Maritime careers exhibition
Discover ocean-based research in the Bay
Bayworld experiences
Virtual diving opportunities
Watersports
Family entertainment
Popular live artists and DJs including Mobi Dixon and internationally renowned Mafikizolo
Navy vessel tours including a navy strike craft
Evening yacht procession
Street soccer competition
Boxing tournament
Angling competition
Fish braai competition
Tugboat ballet
Firework display
Inter-quay ferry trips
Fish and farmers' markets
Food trucks
Bocadillos pop-up restaurant
Lifestyle market
Entrance to the event will be via Baakens Street and the Campanile entrance. There will be plenty of free parking available with hop-on-hop-off buses within the port running between the parking areas and the festival activities.
Gates open at 10 am and close at 10 pm on Saturday, and from 10 am to 4 pm on Sunday.
More information can be found at www.peoplesport.co.za or the People's Port Festival Facebook and Instagram pages.