Come explore Gqeberha's best beaches
20 November 2023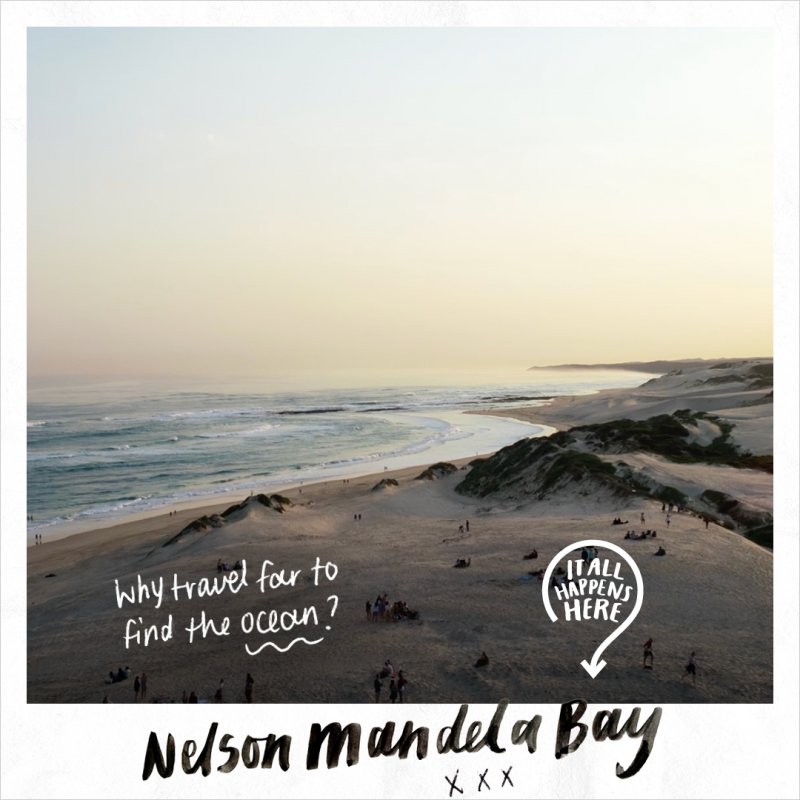 When it comes down to dream vacations, beaches are a top choice for travellers seeking relaxation, adventure and natural beauty. What makes Gqeberha's beaches so appealing is the combination of the warm water of the Indian Ocean, the golden sandy beaches and the fact that they are clean and safe for swimming.
The city offers three blue flag beaches Hobie, Humewood and Kings Beach. In order to qualify for the Blue Flag Status, a series of stringent environmental, educational, safety, and accessibility criteria must be met and maintained.
Most of these blue flag beaches are located in Summerstrand which offers many beautiful beachfront accommodation and entertainment amenities like restaurants and a vibrant nightlife scene stretching from Kings Beach all the way down to Pollock Beach.
Below is a list of some of Gqeberha's most popular beaches for you to come enjoy this summer:
Bluewater Bay Beach
Bluewater Bay Beach has small, undulating sand dunes and promises hours of fun for little ones. The warmer waters and good conditions of the Indian Ocean make it a fabulous choice for swimming and surfing. Thanks to our windy afternoons, this beach is also great for kite-surfing and the best spot for fisherman to bag an impressive catch after a long day.
Kings Beach
Kings Beach, a phenomenal blue flag beach that is one of Port Elizabeth's largest, most popular and most beautiful beaches. The warm water is safe for swimming and there is plenty of parking. Families can enjoy water slides and swimming pools with plenty of space to run around and make lasting memories. During the summer holidays, 8 December 2023 to 7 January 2024, the beach also hosts the Playland offering a wide variety of rollercoaster and fun rides for the whole family. For more info click here.
Humewood Beach
Humewood Beach is South Africa's oldest blue flag beach and situated between Kings Beach and Hobie Beach along the main beachfront. It is fabulous for swimming, sun-tanning and even snorkelling, and families with young children can often be found here due to its excellent safety standards and calm, warm waters. For more info click here.
Hobie Beach
Hobie Beach, famous for its beach and entertainment combination offers a variety of things to do. From Pro Dive's scuba diving activities to enjoying an ice cold beer at Barney's. Hobie has something for everyone even the little ones can enjoy a stroll up the Pier with a sugarcane ice-cream in hand.
Pollok Beach
Pollok Beach which is just fabulous for an early morning swim, surfing and the perfect meditating spot if you ask me. This beach is favoured by surfers because of its excellent waves and surfing opportunities.
Sardinia Bay and Maitlands Beaches
For the most spectacular sand dunes and hiking trails Sardinia Bay - and Maitland Beach are by far your best fighters!
Schoenmakerskop Beach
From hiking up the 8km moderate circular route "Sacramento Trail" between Schoenmakerskop (meaning shoemaker) and Sardinia Bay to sand boarding down the majestic white sand dunes, it is every adventurers dream.
Wells Estate Beach
Wells Estate Beach boasts of beautiful white sand dunes, and warm waters, this beach is one of the best spots in Nelson Mandela Bay. The beach is sandy and wide, with water slides and paddling pools great for family fun with the kids. It also has pleasant picnic spots, a long raised pier built over the dunes for dolphin and whale watching.
Nelson Mandela Bay remains a relatively quiet tourism destination, which means that, even in the peak of the holiday season, there will be a spot on one of our beaches for you to pop up an umbrella and relax.